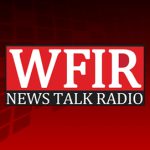 About 10 people are demonstrating outside the Target store in Christiansburg today. Some of them work at the store, and others are supporters. Organizers allege the general manager creates a hostile work environment, among accusations of sexual harassment and racist comments, and they are demanding his immediate termination.
A store manager says Target respects all employees and referred questions to the corporate office in Minnesota.
(Continue reading for the the news release from NRVStrike.org)
Christiansburg, VA: Target (Store #1292) General Manager Daniel Butler has abused Target workers for years, highlighted in worker testimonies which include multiple instances of inappropriate touching, suggestive comments, racist remarks, misgendering transgender employees, and physical abuse. Target has failed to address these complaints and so workers are forced to strike. Striking workers demand the following:
1) The permanent termination of Daniel Butler from the Target Corporation, with no
chance for rehire at this or any other location, and
2) recognition of their independent workers committee to mediate between Target
workers and management at Store #1292
Several workers have attempted to go through Target's HR channels to stop this abuse, only to have their complaints stonewalled. Since Target's methods failed to end Butler's inappropriate behavior, employees ask that the community support their strike through boycott until their demands are met. Full worker testimonies are available at nrvstrike.org
This action is supported by New River Workers Power, a local independent working class organization that seeks to build political power for workers by workers and their allies across the region.