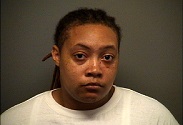 From Salem Police Department: On Saturday, July 2, at approximately 5:09 a.m., Salem Police responded to an armed robbery call at the 7-Eleven store located in the 2000 block of Roanoke Boulevard.

The store employee, who was working at the time of the robbery, told officers that the suspect produced a handgun and demanded money. The suspect left the scene with an undisclosed amount of cash and fled in an undetermined direction. The store clerk was not injured during the incident.

After a subsequent investigation, 27-year-old Shayla D. Vance of Roanoke was arrested at approximately 5:30 p.m. on July 5 by Salem Police Detectives in connection with the armed robbery. Vance has been charged with Robbery and Use of a Firearm in the Commission of a Felony. Vance is currently being held in the Roanoke County/Salem Jail without bond.

The second suspect in the robbery is still at large and Salem Police are asking that anyone with information about his identity and whereabouts call the Salem Police Department at (540)375-3078 or Roanoke Crime Line (540)344-8500.