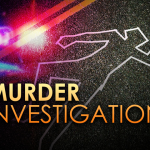 (from Roanoke PD) On January 21, 2023 at approximately 11:50 a.m., Roanoke Police were notified by the City of Roanoke E-911 of a call concerning an injured child at a residence in the 2100 block of Russell Avenue SW. Roanoke Fire-EMS had transported an unresponsive juvenile female to Carilion Roanoke Memorial Hospital for treatment of what appeared to be serious injuries prior to officers arriving on scene. Officers who responded to the scene located an adult male and three other juveniles inside the residence.
Throughout the course of the investigation, it was discovered that the juvenile female's injuries were critical and did not appear to have been caused by an accident, as previously reported by the adult male at the residence. On January 23, 2023, Roanoke Police arrested Jonathan S. Anderson, 32 of Roanoke, and charged him with Malicious Wounding regarding this offense.
On January 24, 2023, Roanoke Police Special Victims Unit Detectives were notified that the juvenile female had succumbed to her injuries and passed away. After consultation with the Commonwealth Attorney's Office, Detectives obtained a warrant for Second Degree Murder for Anderson. That warrant was served on January 25, 2023. Anderson remains in the custody of the City of Roanoke Sheriff's Office.