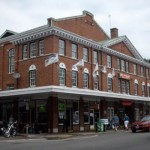 Peace activists will soon be back in front of the Roanoke City Market Building — but their vigils cannot extend around to the outside dining areas. The city says in a news release that the Plowshare Peace and Justice Center will be permitted to resume its monthly assemblies under the Market Building's canopy along Campbell Avenue.  More from WFIR's Evan Jones.
[audio:http://wfirnews.com/wp-content/uploads/2012/01/01-06-Market-Building-Voicer-WEB.mp3|titles=01-06 Market Building Voicer-WEB]Here is the full Roanoke City news release:
Roanoke, VA – To address the Plowshare Peace and Justice Center's expressed desire to use a section of the Roanoke City Market Building's sidewalk for peaceful demonstration, the City of Roanoke announces today that city leaders have worked out an arrangement with the Market Building Foundation to make this possible. The outer portion of the sidewalk along Campbell Avenue in front of the Market Building – a five-foot area under the canopy – has been leased to the city, which makes it available for permitted public assembly. The Market Building Foundation will continue to control and manage the Market Building and the other leased sidewalk area under the canopy for outdoor dining.
"This solution enables the Market Building to continue to focus on business ventures and operate as a successful commercial enterprise," says City Manager Chris Morrill. "Through the process of resolving this question of usage, both the Foundation and the city have gained clarity for the practical use of the Market Building property."
The city has issued a permit allowing the Plowshare Peace and Justice Center to conduct its  assembly on this portion of the Market Building sidewalk on Saturday, Jan. 21. As a result of the agreement, in the future the city will manage this portion of the sidewalk through its assembly permit process to apply appropriate ordinances, laws, and regulations.
"We appreciate the cooperation of the Market Building Foundation and Plowshare Peace and Justice Center in working out this arrangement," says Morrill. "It is a win/win/win result for all the interested parties and balances the interests of the Market Building Foundation, Plowshare, the Market Building tenants, and Roanoke's citizens."