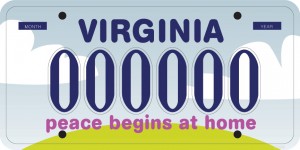 Virginia lawmakers are considering a specialty license plate designed to help prevent domestic and sexual violence. It would say "Peace Begins at Home" , and funds generated would help support domestic and and sexual violence prevention programs across Virginia.
[audio:http://wfirnews.com/wp-content/uploads/2012/02/02-13-License-Plate-Wrap1-WEB.mp3|titles=02-13 License Plate Wrap1-WEB]
Click here for more information or to sign up for the plate. The sign-up cost is $25.