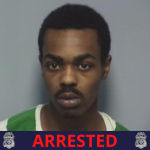 UPDATE: Roanoke Police have arrested Isaiah C. Baldwin, 20 of Roanoke, and charged him with Second Degree Murder regarding this homicide investigation.
Baldwin was identified as a suspect in the early stages of the investigation. The warrant was obtained overnight and officers immediately began searching for him. He was taken into custody earlier today by the U.S. Marshals Capital Area Regional Fugitive Task Force without incident. He was transported to the Roanoke Police Department to speak with detectives and then was remanded into the custody of the Roanoke Sheriff's Office.
(previously) A man is dead following a reported shooting near the 7/11 in the 14 hundred block of Grandin Road in Southwest Roanoke. No suspects were found on scene last night and no arrests have been made.