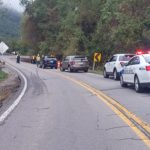 MONDAY UPDATE: Roanoke County Police have identified the driver killed in Sunday's fatal accident along Bent Mountain Road in southwest Roanoke County. Police say 75-year-old Lawrence Larson of Bent Mountain was driving a car that collided head-on with a dump truck. The name of the truck driver has not yet been released. Police say the truck is owned by Boring Contractors of Abingdon.
PREVIOUS: Roanoke County Police report Bent Mountain Rd was cleared with all lanes open late this evening around 9:30.
(from Roanoke County police) At approximately 2:50 p.m., a dump truck with a full load of dirt and gravel traveling northbound in the 8200 block of Bent Mountain Road hit head-on a four-door sedan traveling southbound. Both vehicles ran over the ravine. At this time there is one confirmed fatality.
Bent Mountain Rd is closed between the 7900 block and 8300 block. Drivers should avoid this area. Bypass routes include the Blue Ridge Parkway and Sugar Camp Creek Road. The Roanoke County Police Department, Roanoke County Fire & Rescue and VDOT are on scene and working to open up one lane. (no further update from RoCo PD as of 8:45pm)