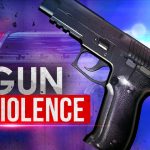 On March 28, 2023 at approximately 7:30 p.m., Roanoke Police were notified by the City of Roanoke E-911 Center of a shooting that had occurred in the 2800 block of Meadows Street NW. Responding officers located a vehicle with damages that appeared to have been caused by gunfire. Officers also located a juvenile female with what appeared to be a minor gunshot wound, and were later advised that a juvenile male had arrived at Carilion Roanoke Memorial Hospital via personal vehicle with what appeared to be a minor gunshot wound. The juvenile female was transported by personal vehicle to and treated at Carilion Roanoke Memorial Hospital.
Preliminary investigation indicates the victims' vehicle was traveling South towards Bowman Park, when another vehicle passed them traveling North. Shots were fired from the vehicle traveling North striking the victims' Southbound vehicle. The offender then fled the scene. Officers were able to identify the offender, a juvenile male, and immediately began searching for him. He was located as his residence in Roanoke County.
Roanoke County Police and Roanoke Police Officers took the juvenile offender into custody and transported him to the Roanoke Police Department to speak with detectives. Officers obtained and served petitions for Malicious Wounding and Shooting into an Occupied Vehicle. The offender was transported to the Roanoke Valley Juvenile Detention Center without further issue.