UPDATE: Park officials report one of the young ospreys flew from the nest Friday morning.
A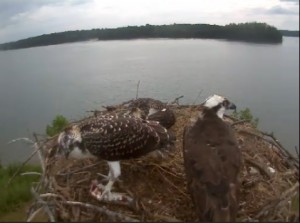 rescue effort last weekend probably saved the lives of two young ospreys at Smith Mountain Lake State Park — but no one knows what happened to the third.  The ospreys are the subject of much attention because their nest is visible on line. The young birds were found on the ground below the nest and placed back in their home a few days later. WFIR's Evan Jones has the story.
Click here to see the Smith Mountain Lake State Park "ospreycam"
Click here for full information on the rescue effort.