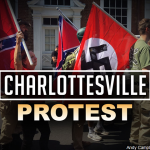 CAMP LEJEUNE, N.C. (AP) — A U.S. Marine identified as a member of a white supremacist group involved in violence during last summer's white nationalist rally in Charlottesville, Virginia, is out of the military after being convicted at a court-martial.
The Daily News of Jacksonville, North Carolina, reports Lance Cpl. Vasillios Pistolis was kicked out of the Marine Corps last month after serving a jail sentence at Camp Lejeune. Marine Corps Headquarters spokesman Maj. Brian Block said membership in extremist or hate groups violates core values.
Pistolis did not return a telephone message Sunday seeking comment. Marine Corps spokesmen with not respond to emailed messages on Saturday.
ProPublica and Frontline PBS reported in May that Pistolis was a member of a neo-Nazi group and bragged about violence he committed in Charlottesville in August 2017