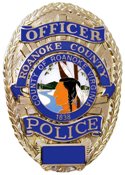 Roanoke County Police say the discovery of a man's body near Explore Park is being treated as a "suspicious death." Officers were called just afternoon to Rutrough Road for a well being check where they found one man dead. Police are not yet identifying the man ore releasing any further information.
Here is the full Roanoke County Police news release as of 2:50 pm Monday:
At 1215 P.M. today Officers from the Roanoke County Police Department responded to the area of 4300 Rutrough Rd. in Roanoke County in reference to a well being check.  Officers found a deceased white male.  The Roanoke County Police Department is currently investigating the case as a suspicious death.  No further information is currently available.