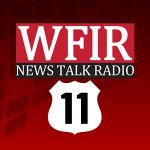 State Police say a Roanoke man was killed when he was struck by a car on Route 11 in the Cloverdale area of Botetourt County. Troopers say 63-year-old Billy Agee was trying to cross the roadway yesterday evening after leaving the Greenway Market when he was hit. Agee died at the scene. There is no indication that any charges are pending against the driver involved.
From State Police: Virginia State Police Trooper B.A. Javins is investigating a single vehicle crash involving a pedestrian.  The crash occurred Tuesday (Oct 9) at 7:22 p.m. on Route 11, in front of the Greenway Market in Botetourt County.
A pedestrian was crossing the Route 11 after leaving the Greenway Market, when the pedestrian was struck in the southbound travel lane by a 2015 Hyundai Elantra which was traveling south on Route 11. The pedestrian was identified as Billy Wayne Agee, 63, of Roanoke, Va.  Mr. Agee died at the scene.
The 2015 Hyundai was driven by Nancy Creger Sturgill, 82, of Roanoke, Va.  Ms. Sturgill was wearing her seatbelt and was not injured.
The Virginia State Police Crash Reconstruction Team was called to assist with the crash.
The crash remains under investigation.