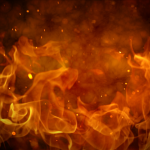 A Bedford County man is under treatment at the Wake Forest Burn Unit in North Carolina, after a tractor caught fire this morning inside a garage. Crews were called to Scenic View Road between Bedford and Moneta. Reports from the scene indicate the victim was working on a tractor when he cut a fuel line, igniting the fire.
From Bedford County Fire and Rescue: On Wednesday October 24, 2018 at 11:38 A M Bedford County E-911 Center received a call reporting a garage fire with a person trapped at 2244 Scenic View Road on Moneta Va. First units to arrive found a conscious and alert adult male victim with 2nd and 3rd degree burns over large parts of his body. A farm tractor was damaged as was a small amount of the structure from a fire at that location. The 82 year old male victim required initial pre-hospital treatment on scene and subsequent aeromedical transportation by Life Guard 10 to Wake Forest Medical Center.
Responding units from the Moneta Volunteer Fire Company, Stewartsville Chamblissburg Volunteer Fire Company, Bedford Vol Fire Company, Moneta Rescue Squad, Bedford County Sheriff's Office and Bedford County Dept. of Fire & Rescue including the Fire Marshal's Office operated at this incident.
Fire Marshals remain on scene to determine the specifics of the incident.