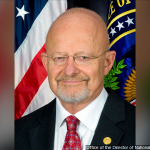 ROANOKE, Va. (AP) – Lt. Gen. James Clapper is scheduled to speak at Roanoke College on "Ethics and the Current and Future Importance of Intelligence Gathering."
Clapper was nominated by President Barack Obama in 2010 to serve as U.S. Director of National Intelligence. He served in that position until 2016.
Clapper is slated to speak at the college on March 22 as part of the Henry H. Fowler Program and the Delta Gamma Ethics in Leadership Program. Clapper will continue this year's academic theme, "The Next America."
Clapper, a retired lieutenant general in the U.S. Air Force, has held a variety of defense and intelligence positions.
The event is free and open to the public.