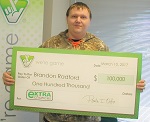 A Roanoke man is a $100,000 dollar Virginia Lottery winner – with a ticket that at first didn't win anything. Lottery officials say Brandon Radford entered the ticket into "eXTRA Chances", and his was among those selected from among all the previous non-winners entered.
(Continue reading for the Virginia Lottery news release.)
From the Virginia Lottery: Brandon Radford of Roanoke races four-cylinder cars when he's not at his job as a machine operator. He expects to buy a lot of tires with the $100,000 he won in the Virginia Lottery's eXTRA Chances Promotion. "At first I couldn't believe it," he said. "I just couldn't believe it was real." And it all happened because of a ticket that didn't win!
With eXTRA Chances, players can enter non-winning tickets in monthly drawings for prizes up to $100,000. Mr. Radford entered several tickets, and one of them was drawn from more than 1.4 million entries in the March 7 drawing to win the top prize.
He's not the only winner. Players have a chance to win each day with up to 150 daily instant-win cash prizes, ranging from $25 to $100. Just enter any non-winning Scratcher with the eXTRA Chances logo for your chance to win one of these great cash prizes!
Mr. Radford said he hopes to use his winnings for a down payment on a house.
The next grand prize drawing will be held on April 4 with a $100,000 grand prize. The deadline to enter is March 28.
When it comes to education, the Virginia Lottery is game.  In fact, it's the reason we play.  We generate more than $1.6 million per day for Virginia's K-12 public schools.  Operating entirely on revenue from the sale of Lottery products, the Virginia Lottery generated more than a half-billion dollars for Virginia's public schools in Fiscal Year 2016. For more info, visit our website, like us on Facebook, follow us on Twitter and Instagram and check us out on YouTube. Please play responsibly.