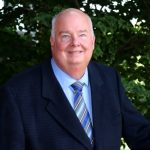 Salem City Manager, Jay Taliaferro, announced today that he is retiring from his current position on November 1, 2023. Taliaferro has been Salem's City Manager since December 19, 2019, and has served the city's citizens in several capacities for over 32 years.
"To be able to serve others while giving back to the community that helped raise me has been an extremely special and unique experience," Taliaferro said. "I appreciate the opportunity to lead the city more than anyone will ever know."
Taliaferro began his employment with the City of Salem in 1991 as a Staff Engineer and in 1998, he was named City Engineer by City Manager Randy Smith. In 2000, Taliaferro moved into administration as Assistant City Manager and he served in that role under both Forest Jones and Kevin Boggess.