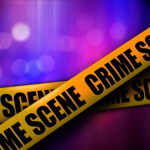 UPDATE: A Roanoke man was indicted this week in connection with the death of his grandmother. Roanoke Police say officers found 64-year-old Charlotte Brewster  badly beaten last week at an apartment near William Fleming High School. She died the next day. 20-year-old Dontae Brown is currently charged with malicious wounding, but officials say the investigation is not complete.
From Roanoke Police: Dontae Brown was indicted on September 4th, and is now also charged with Malicious Wounding in relation to the August 29th incident and Aggravated Malicious Wounding in relation to the August 30th incident. Both of these charges are related to the incidents leading to the homicide of Charlotte Brewster, who is Brown's grandmother. He was served at the Roanoke City Jail on September 5th. These incidents are still under investigation.
PREVIOUS: Roanoke Police say a 64-year-old woman is dead, and a 20-year-old relative is jailed, the result of an assault last week. Police say they were called Thursday  to an apartment complex along Ferncliff Avenue – near William Fleming High School – where they found Charlotte Brewster and Dontae Brown in a bedroom. Brewster was taken for hospital treatment, but she died Friday, and her death is now ruled a homicide. Dontae Brown is jailed for violating a protective order involving the two.
From Roanoke Police: On August 30, 2018 at about 11:30 am, Roanoke Police responded to 3533 Ferncliff Avenue NW regarding a well-being check on a resident. On arrival, Roanoke Fire-EMS were on scene as well and getting no response from the resident. Officers made entry and located Charlotte Brewster, age 64 of Roanoke, in a bedroom along with Dontae Brown, age 20 of Roanoke. Brewster had injuries consistent with an assault. Brown was placed under arrest for violation of a protective order for a prior incident involving Brewster and Brown. Brewster was transported by Roanoke Fire-EMS to Carilion Roanoke Memorial Hospital for treatment. Brown was transported to the Roanoke City Jail and charged with Malicious Wounding and Violation of a Protective Order. On August 31st , Roanoke Police were notified that Brewster had passed away. On September 1st, an autopsy was performed at the Medical Examiner's Office, and Brewster's death was ruled a Homicide. Detectives and Forensics Investigators are continuing to investigate this incident. Brewster and Brown are related.