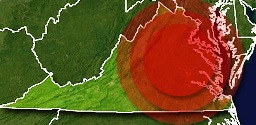 RICHMOND, Va. (AP) _ The U.S. Geological Survey says the 2011 Virginia-centered earthquake shows that East Coast tremors can travel much farther and cause damage over larger areas than previously thought. The agency estimates that about one-third of the U.S. population could have felt the magnitude 5.8 tremor. That's more than any earthquake in U.S. history.
The earthquake centered about 50 miles northwest of Richmond caused more than $200 million in damage. And scientists found the quake triggered landslides at distances four times farther and over an area 20 times larger than previous research quakes has shown.
The findings were presented Tuesday at the Geological Society of America conference in Charlotte, N.C. Officials say the information will be used for risk assessments and emergency preparedness.