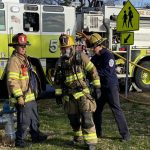 (update) The Roanoke County Fire Marshal's Office reports that the fire on Plymouth Drive this morning originated in the kitchen and is still currently under investigation.  Damages are estimated at $60,000.
(Roanoke County, VA—March 19, 2023) Roanoke County Fire and Rescue responded at 8:27 a.m. on Sunday, March 19, 2023 to the 100 block of Plymouth Drive, in the Hollins area of Roanoke County, for the report of a residential structure fire. First arriving crews from Station 5 (Hollins) found heavy smoke and fire coming from the rear of a 1.5 story brick home and marked it a working fire.
At the time of the fire, the home was occupied by one teenager and a dog and two cats. There are no injuries to people or pets. The fire was brought under control in approximately 15 minutes. A family of three will be displaced and staying with family in the area. The American Red Cross will be assisting this family. We appreciate the assistance of Roanoke Fire and EMS on this call. The Roanoke County Fire Marshal's Office is on scene to investigate a cause and provide a damage
estimate.