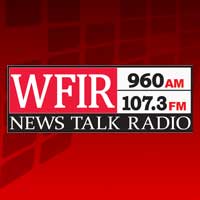 Tolls will soon be coming to a busy Interstate highway in Virginia, but unlike an earlier proposal, it is not for Interstate 81. WFIR's Evan Jones has the story.
[audio:http://wfirnews.com/wp-content/uploads/2011/09/09-20-VA-Tolls-Wrap1-WEB.mp3|titles=09-20 VA Tolls Wrap1-WEB]
Virginia had once requested federal approval to establish tolls on I-81 to pay for truck-only lanes, but that proposal was abandoned. Virginia Secretary of Transporation Sean Connaughton says Virginia then asked for federal approval to transfer that approval to Interstate 95, Virginia's busiest highway, and that switch now has provisional federal approval. One of the key steps now is to establish one or two specific toll booth sites between Fredericksburg and the North Carolina line. Toll revenues can be used only to fund improvements on I-95, but that should free  more federal funds for highways like 81.
Under federal law, tolls can't be imposed on Interstates built with federal funds, and this is part of a pilot program involving just three such highways in three states to determine if that policy should be changed.