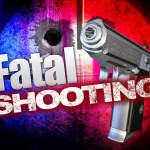 On September 2, 2023 at approximately 2:30 p.m., Roanoke Police were notified by the City of Roanoke E-911 Center of a serious motor vehicle crash in the 1600 block of Aspen Street NW. Responding officers located an unresponsive adult male victim inside a vehicle that had crashed into a detached storage building in the area. Roanoke Fire-EMS personnel arrived on scene, removed the man from the vehicle, and began providing treatment. During that process, they discovered that he was suffering from what appeared to be serious gunshot wounds. Ultimately, Roanoke Fire-EMS pronounced him deceased on scene.
Preliminary investigation indicates that the shooting took place near the intersection of Tremont Drive and Fairland Road NW. Officers located evidence of a shooting in this area. It appears as though the male victim was shot at this location, then drove to Aspen Street NW where the motor vehicle crash occurred.
Details about what led to this shooting are limited at this time. No suspects were located on scene and no arrests have been made.