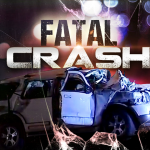 BOTETOURT COUNTY, Va. – Virginia State Police is investigating a two-vehicle crash, which resulted in a fatality.  The crash occurred Friday (July 14) at 4:32 p.m. on Route 11, just south of Mountain Pass Road in Botetourt County.
A 2000 Dodge Ram was traveling north on Route 11, when the vehicle crossed the center-line and struck a 2001 Ford F-250 pulling a cattle trailer, which was traveling south, head-on.
The driver of the Dodge was identified as Mark Alan Simpson, 62, of Fincastle, Va.  Simpson was not wearing his seatbelt and was transported to Roanoke Memorial Hospital, where he later died.
The Ford was driven by Jeffrey M. Camper, 61, of Buchanan, Va.  Mr. Camper and a female passenger were both wearing their seatbelt and were transported to Roanoke Memorial Hospital for non-life-threatening injuries. Several of the cattle were euthanized due to injuries received in the crash.