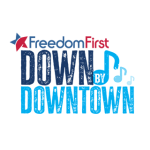 ROANOKE, VA (March 7, 2023)—The Freedom First Down by Downtown Music Festival is excited to announce Joe Hertler & The Rainbow Seekers as the headliner in Elmwood Park Amphitheater on Saturday, April 22, alongside the Foot Levelers Blue Ridge Marathon race festivities. A four-day music festival, Freedom First Down by Downtown will take place April 20-23 at venues across
downtown Roanoke featuring dozens of musical performances ranging from country, folk, and blues to acoustic, Americana, and jazz. The festival happens in conjunction with marathon weekend to highlight downtown Roanoke's vibrant music scene while providing the race community with an entire weekend of live music, fun experiences, and community.
Hailing from Michigan, Joe Hertler & The Rainbow Seekers are a Floyd Fest featured artist. They promise attendees a ride on the rainbow across the mountains of Motown, through the fjords of folk, over the archipelagos of Americana, and-at last-into a funky firth, where only the fiercest of friendships can be found. Organizers are thrilled to welcome Joe Hertler for their energy and sound as the crowning touch to one of the best weekends in Roanoke.
"The live show is the purpose of the band. This is why we make music. Playing music is a symbiotic process, the crowd is as much a part of it as the musicians. We give as much energy and love as we can and we can feel that coming from the crowd as well," says Hertler. "We believe that performance is not a High Art operation, and that you should do anything you can to ensure that the crowd is having a good time. From piñatas to confetti, to fog, to flowers, to drum solos, to strobe lights, to Thor, to sword battles-literally anything goes." "This festival is about what makes Roanoke come alive." Says Kait Pedigo, Event Manager for the marathon and music festival. "We want everyone, both visitors and locals, to explore our beloved downtown venues and connect with the heart of Roanoke's music culture."
Opening for Joe Hertler & the Rainbow Seekers are Liv Sloan and the Die Hards followed by Kentucky Ruckus for an evening of rock, jazz, blues, and feel-good vibes. Liv Sloan & The Die Hards are an up-andcoming Martinsville, Virginia-based band. Infusing the sounds of 50's jazz and classic blues with a 70's rock flair. Kentucky Ruckus is a bourbon-fueled rock band from the Bluegrass State of Kentucky. A heavy-picked bass style corresponds with the kick drum, and gritty upper-register vocals complete the high-energy, no-rules rock sound that is Kentucky Ruckus. The partnership between Down by Downtown and Freedom First is part of a larger regional economic development initiative of the Roanoke Regional Partnership and Roanoke Outside Foundation, with a
goal to add to the vitality of the community and, in the process, help attract talent and business investment to the Roanoke Region of Virginia.
Participating venues in Freedom First Down by Downtown are Elmwood Park Amphitheatre, Martin's Downtown, Sweet Donkey Coffee, Big Lick Brewing, The Spot on Kirk, Starr Hill Pilot Brewery and Side Stage, and Twisted Track Brewpub. Tickets for Joe Hertler and the Rainbow Seekers are available for $20 in advance and $25 at the door.  You can purchase tickets now at
https://www.ticketsignup.io/TicketEvent/FreedomFirstDownbyDowntown. Individual venues have varying ticket prices and cover fees for shows; visit downbydowntown.com for a full lineup and links to shows.