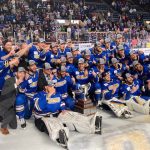 ROANOKE, Va. – The Rail Yard Dawgs announced August 8, 2023 that head coach Dan Bremner's contract has been extended through the 2025-2026 season.  Bremner assumed the head coach role with the team in December of 2017. Not only has the team secured a playoff spot each season under Bremner's leadership, Bremner has also coached the Dawgs to two back to back championship appearances, first in 2021-2022 and then again in 2022-2023. The team won their first ever SPHL President's Cup in 2022-2023.
During Bremner's seven years in the Roanoke Valley, he has tirelessly volunteered with Valley Youth Hockey Association earning him the Robert Sher Volunteer of the Year Award during their 2020-2021 season. Bremner was also recognized as a part of The Roanoker Magazine's Class of 2023 "40 under 40" for his dedication and success in the area.  "We're pleased to sign Dan to this extension," said team president Mickey Gray,  "He's done a phenomenal job representing our organization on the ice, with the local youth hockey program and in the Roanoke Valley as a whole. The success we've seen on the ice with Dan as our head coach is something we're looking forward to continuing in the years to come."
Gray was responsible for hiring Bremner back in 2017. The two first met when Gray was working for Peoria as the Assistant General Manager and Bremner was their team captain.  "I'm very grateful for Mickey and the McGinns continuing to believe in me and my vision for this team," said Bremner, "On the ice we've seen growth and improvements every season and I'm looking forward to tackling the challenges we will face defending our championship."
The Rail Yard Dawgs will raise a championship banner to kick off the 2023-2024 season on Friday, October 20. Single game tickets for Opening Night and all other home games go on sale September 20 at Berglund Center box office and online.