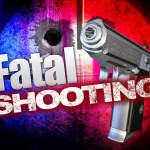 UPDATE FROM ROANOKE POLICE JUNE 11: Roanoke Police have arrested Demarcus S. Glenn, 20 of Roanoke, and charged him with Second Degree Murder regarding the May 31 Homicide of Tyler Polumbo. Glenn was located and arrested at a residence in the 800 Block Pinewood Drive NW without incident on June 11. This incident is still under investigation. Anyone with information is asked to call or text our tip lines.
PREVIOUS: Due to the victim's age, Roanoke Police have not been releasing the name of the victim in the 5/31 homicide on Denniston Avenue SW. After careful consideration and discussion with the victim's family, we have decided to release the name of the victim. The victim of this homicide is 16-year-old Tyler Polumbo of Roanoke.
PREVIOUS: On May 31, 2019 just after 10 pm, Roanoke Police responded to a report of a person who had been shot in the 2100 block of Denniston Ave SW [in the Grandin Village area]. Responding officers located a male with a gunshot wound in that area. Roanoke Fire-EMS pronounced the male deceased on scene. Roanoke Police are currently on scene investigating. No arrests have been made regarding this incident.
Anyone with information about this incident is asked to call (540)344-8500 and share what you know. You can also text us at 274637; please begin the text with "RoanokePD" to ensure it's properly sent. Both calls and texts can remain anonymous.