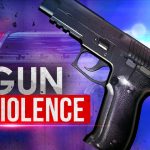 (from Roanoke City Sheriff's Office) Roanoke, VA – On Friday September 8, 2023 the Roanoke City Sheriff's Office in conjunction with the Roanoke City Police Department, and in partnership with local pastors and city leaders will come together for the launch of Cease Fire: Victory in Valley. This campaign will focus on ending the gun violence within the city.
This call to action asks all community leaders, business owners, and those invested in saving our city, to stand together and take action. The launch will highlight an initial 30-day commitment to end gun violence and detail how every person can get involved.
In this city, we are all stakeholders and keeping our communities safe should be a collaborative effort.
Regardless of the quadrant we live in, violence affects everyone. The community is encouraged to participate in the upcoming launch. While on-site, posters, yard signs, and t-shirts (while they last) will be available to help spread the message. The Sheriff's office will also provide information regarding the large community event scheduled on October 8, 2023.
This upcoming event is to recognize the efforts of the community and to celebrate National Faith and Blue Weekend. This weekend focuses on "safer and stronger communities by engaging law enforcement officers and local residents through the connections of faith-based organizations," (faithandblue.org).
What: Launch of Cease Fire: Victory in Valley
When: Friday, September 8, 2023 @ 10:00AM
Where: Roanoke City Municipal Building, 216 Campbell Ave (gathering on steps/lawn)