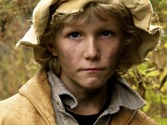 A student filmmaker from the New River Valley is seeking cast members for a movie he plans to shoot early next year. Matthew Pickett's film is titled "Restitution," about a young man coming of age in the Appalachian Mountains in the 1890s. Pickett is casting a number of parts for the film.  The auditions are Friday from 7:00 to 9:00 p.m. and Saturday afternoon from 1:00 to 4:00 p.m. at the Blacksburg Community Center.
"Restitution"
On December 7 and 8, 2012, Paddle Productions and The West Film Company will be holding an open casting call at the Blacksburg Community Center for their new film "Restitution." Matthew Pickett ["The King's River"], a native of Blacksburg Virginia and film student at Rochester Institute of Technology, will be shooting the film January 1-5, 2013 in the greater Blacksburg area.
The film is a story about a young man, Roy, and his destitute family who are living in the Appalachian Mountains in the 1890s. The eldest son in the family has recently been killed and Roy feels obligated to become the new up-and-coming man of the house. Fueled by his childish sense of revenge, Roy puts a plan of deception into place that sets off an uncontrollable chain of events leading to an eventual showdown that even Roy himself may not be able to stop.
All actors must be 16 years or older. The roles open for audition are as follows:
-Kathryn
A Woman in her Mid 50's; physically weathered but a strong mother.
-Sara
A Woman in her mid to late 30's who has a strong face full of expression
-Floyd
Man in his early 30's; a creased face of pensive and cautious thoughts.
-Eugene
A Man in his 40's; imposing in a loving and fatherly way.
-Aimie
A young looking girl full of Innocence. Wide-eyed and expressive.
-Preacher
An elderly man. Severely wrinkled from many years living around the
tough reality of hardship and death.
-Extras for cemetery scene
Two families, Husbands and wives that have kids of various ages from 16 to 24.
More information and film trailer