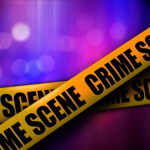 Two people are under arrest – and a third is being sought – for the weekend murder of a woman in southwest Roanoke County. Police identify the victim as 35-year-old Amber Ross of Franklin County.  Officials say a man brought her to the Lewis-Gale Emergency Center near Tanglewood Mall with a gunshot wound, then took off. Police soon determined the shooting occurred at a home on Overland Drive, off Starkey Road. 27-year-old Aaron Witcher of Roanoke is in custody facing murder charges, and a 17-year-old is charged with related counts. County Police say they are looking for Shamby Walker, a woman believed to be in her mid 30's.
From Roanoke County Police: On Saturday, May 19, before 11:00 p.m., a deceased female with a gunshot wound was brought in to the LewisGale Medical Center ER on the corner of Ogden and Electric Roads by a male who then fled. A witness obtained a tag number from the male's car which led police to the area of Overland Drive in Roanoke County. Over the next several hours, multiple building searches and search warrants were conducted in the 5000 block of Overland Drive in connection with the crime. As a result of these searches, the scene of the homicide was located at a house in the 5200 block of Overland Drive, and additional evidence was collected from this scene. Police were able to develop several suspects after positive identification of the victim was made by the medical examiner on Monday, May 21. The victim was Amber C. Ross, 35, of Franklin County.
Through numerous interviews and witness statements in the course of this investigation, it appears that a robbery was set up at the residence in the 5200 Block of Overland Drive. During the course of the robbery a physical altercation occurred between a resident and a suspect who had brandished a firearm. Ross, who was present in the house, received a fatal gunshot wound when the firearm was discharged. Three suspects fled the scene. A male resident of the house took Ross to the LewisGale ER and then fled.
Additional search warrants and interviews were conducted that led officers to an address in the 700 block of McDowell Avenue, NW in the City of Roanoke. Two suspects were taken into custody at this location on Tuesday, May 22 without incident. One suspect is identified as Aaron Witcher, 27, of Roanoke, and another is a 17‐year old male juvenile, also of Roanoke. A third suspect, identified as Shamby Walker, is still at large and the public is asked to contact the Roanoke County Police Department with any information regarding her whereabouts. Walker is described to be a white female with brown hair and blue eyes, mid‐30s, approximately 5'10", and 280 lbs.