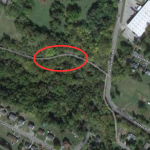 (from Roanoke PD) On July 2, 2023, at approximately 9:10 a.m., Roanoke Police were notified by the City of Roanoke E-911 Center of a possible assault that occurred near the 2.7 mile marker on the Lick Run Greenway. Responding officers located Roanoke Fire-EMS providing aid to a female who had what appeared to be severe injuries from a physical assault. Roanoke Fire-EMS transported the woman to Carilion Roanoke Memorial Hospital for treatment.
 Due to the extent of the woman's injuries, there is very little information about the suspect and what lead to the assault. If you were on the Lick Run Greenway on Sunday morning between the hours of 8:00 and 9:00 and saw an elderly, white female wearing a wide brimmed sun hat, glasses, a gray t-shirt, and light green shorts, please call and let us know if you saw anyone near her, interacting with her, or anything you felt was out of the ordinary for that area.
We know that our Greenways are a safe, convenient way for our community members to enjoy the outdoors and move about Roanoke; however, we do recommend that everyone exercise personal safety measures. Try to always walk with a friend, let someone know where you will be and when you will be leaving that area, and be aware of your surroundings.
Roanoke Police will be conducting extra patrols on the Lick Run Greenway, both during regular patrol hours and by utilizing officers on the RPD Bike Team. We are working with the Roanoke Parks and Recreation Team to ensure that our Greenways remain safe for all visitors and residents of the City of Roanoke.