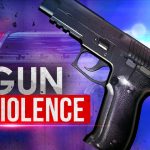 (from Richmond Times-Dispatch) Richmond Mayor Levar Stoney during a press conference Tuesday started by offering prayers for the families involved — from the victims' families to "the children" who expected to celebrate a joyous graduation. Seven people were wounded in a shooting following Huguenot High School graduation ceremonies, police said.
"This is tragic, but also traumatic because this is their graduation," Stoney said. "The question that comes to mind right now is: Is nothing sacred any longer?"
Seven people were wounded in a shooting outside the Altria Theater on Tuesday afternoon, Richmond Interim Chief of Police Rick Edwards said during a press conference. Three of the wounds were considered life-threatening, he said.  "At this point we have taken two subjects into custody. At this point we do not believe there is an ongoing threat to the community," he said.
Edwards said officers who were inside the theater heard gunshots. Mayor Levar Stoney said: "I want to begin by providing prayers for families involved here not just to those that may have been victims but to those children, children involved at a graduation so words that come to mind is that this is tragic but also traumatic because this is their graduation event."
Gov. Glenn Youngkin in a Twitter message said: "My administration continues monitoring the terrible shooting in the heart of Richmond tonight. State law enforcement are fully supporting the Richmond Police Department as this investigation moves forward."