Gene Marrano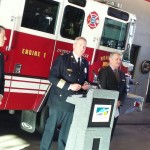 Roanoke City's firefighting capability has been recognized by the International Standards Organization – ISO – with its highest rating, the Class 1 status. Roanoke Fire-EMS is only one of 132 departments in the entire country with that class 1 rating, which is based in part on risk reduction, fire prevention education and water availability. Fire-EMS Chief David Hoback made that announcement this morning:

The local Salvation Army's annual Red Kettle Holiday Drive is coming up a bit short to date compared to the same time last year – and they're asking for help as WFIR's Gene Marrano explains:

With temperatures this past weekend in the 60s and 70s, it may be hard to believe winter is less than an week away, but it does arrive Monday the 21st. WFIR's Luke Church reports that the city of Roanoke is preparing forwinter weather.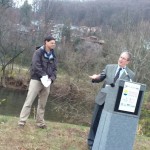 The proposed kayak launch on the Roanoke River Greenway near the Bridges development on South Jefferson is close to becoming a reality – the first of what could be a half-dozen kayak launches on the Roanoke River "blue-way" needs to raise another ten thousand dollars before construction can get underway. Private donations are raising the 80-thousand dollars needed;the launch must be built by April to avoid the log perch mating season. Congressman Bob Goodlatte helped secure money for the greenway:
At age 46 Roanoke City police chief Chris Perkins is calling it quits next March – its just time to try something else says Perkins, who rose to the top job from patrolman. More from WFIR's Gene Marrano:
12-14 Perkins reflects Wrap#1-WEB
Click below to hear more from Chief Chris Perkins (speaking with WFIR's Gene Marrano)

"Peanuts" comic strip creator Charles Schulz sent mixed messages to some of his followers – who tried to detect where he stood spiritually. That's the subject of a new book as WFIR's Gene Marrano reports:
A new program is being introduced by Virginia's Attorney General Mark Herring to offer free estate planning for low-income veterans throughout the Commonwealth. WFIR's Luke Church has the details.

The Roanoke Diversity Center – which supports the local L-G-B-T community – is looking for a new, more visible home somewhere in downtown Roanoke. More from WFIR's Gene Marrano:

Steps leading up to Roanoke City offices in the Municipal North building downtown have been closed since 1982 – that ends with a Grand re-opening tomorrow at noon as WFIR's Gene Marrano reports: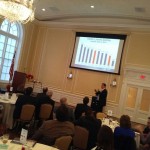 Its been a long slow climb out of the "Great Recession" for Virginia – but things are trending in the right direction. WFIR's Gene Marrano has more on a presentation in downtown Roanoke this morning: