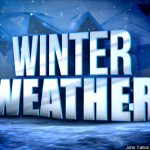 From the National Weather Service: WINTER WEATHER ADVISORY IN EFFECT FROM MIDNIGHT TONIGHT TO 9 AM EST WEDNESDAY. Light accumulating snows expected tonight into Wednesday. An upper-level disturbance moving out of the central Plains interacting with a cold air mass will produce an increase in coverage of snow showers tonight. Potential exists for short-lived bursts of snow that may cause difficult travel conditions for the Wednesday morning commute. While snow showers generally cease by mid-morning Wednesday in most areas, a longer period of continued accumulating snow expected across the mountains in southeastern West Virginia.
 WHAT Snow expected. Total snow accumulations of up to one inch expected, which will likely impact the Wednesday morning commute.
WHERE Monroe and eastern Greenbrier County in West Virginia as well as the New River and Roanoke Valleys, Alleghany Highlands, southern Shenandoah Valley and the central Virginia Piedmont in Virginia.
WHEN From midnight tonight to 9 AM EST Wednesday.
ADDITIONAL DETAILS Plan on slippery road conditions. The hazardous conditions likely will impact the morning commute.