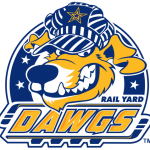 ROANOKE, VA. – The Rail Yard Dawgs (24-14-3) overcame four ejections and a two-goal deficit on Friday night in a wild 4-3 win over the Knoxville Ice Bears (25-15-3) at Berglund Center. C.J. Valerian's game-winner with 35 seconds left gave Roanoke the lead, after other goals by Josh Nenadal, Mac Jansen, and CJ Stubbs.
The Dawgs roared out of the gate, outshooting Knoxville by 11 over the first 16 or so minutes of the game. Nenadal stuffed a puck from the right wing goal line inside of the post at 4:18 to give the Dawgs the opener. Then, things got wild at the 16:58 mark. Roanoke's Spencer Kennedy made contact with Knoxville's Rex Moe, and moments later after their shifts ended, Moe jumped Kennedy within the confines of the Roanoke bench. Knoxville's entire bench emptied as a brawl erupted over the dasher boards that separated the two teams, outside of Moe entering to get to Kennedy. In all, six game misconducts or match penalties were handed out – for Roanoke: slew-footing to Kennedy, continuing altercations to Stephen Alvo and Dom Marcinkevics – for Knoxville: attempt to injure to Moe, and continuing altercations to Rourke Russell and Nick Pryce. After the penalties were assessed, Knoxville tied the score at 19:06 to swipe the momentum via its captain, Justin MacDonald, and the game was tied at 1-1 entering the intermission.
The second period continued in Knoxville's favor, with Rasmuz Waxin-Engback finishing off a rebound at 0:36 to give the Ice Bears the lead. At 12:53, Jagger Williamson doubled that advantage on a long-range blast to make it 3-1 Ice Bears. Roanoke got one back on a Jansen power play rip from a tight angle at 15:56, but the Dawgs trailed 3-2 entering the final frame.
Roanoke had to kill three Knoxville power plays in the third period, including three minutes of a major kill after Jarrad Vroman was given a game misconduct/ejection for elbowing at 8:06. Already skating with a short bench, Roanoke dug deep and survived. At 13:17, Stubbs was able to tie the score on a rebound from a Nick Ford shot. The Dawgs had several more chances, but it was a Valerian snipe from the slot in the final minute that gave Roanoke the remarkable comeback win.
Austyn Roudebush stopped 29-of-32 shots faced in net for Roanoke, while Knoxville's Kristian Stead saved 33 of 37 shots faced. Roanoke went 1-for-3 on the power play, while the Ice Bears were 0-for-4.
Roanoke will stay home on Saturday, February 25 at 7:05 p.m. EST to face the Knoxville Ice Bears at Berglund Center. Season tickets and single-game tickets are available by calling the Rail Yard Dawgs office, visiting the 'Tickets' page on our website, or by visiting the Berglund Center box office.