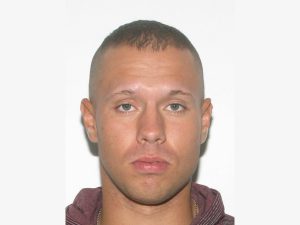 (final update 2:50pm) The man wanted by Salem Police on numerous charges, including Felony Murder, was apprehended Tuesday morning in Ravenswood, West Virginia. Zane Chandler Christian, 25, of Christiansburg was taken into custody by authorities in the small Jackson County town that is located just off I-77 along the Ohio River. "Whenever a case stretches across several jurisdiction and in this case into another state, it takes a team effort to bring a suspect into custody," says Mike Crawley, Salem Police Chief. "We greatly appreciate the assistance the Virginia State Police, Roanoke County Police, the FBI and the U.S. Marshals Service provided to make sure Zane Christian was taken into custody." It was also the first homicide in Salem in 202o.
(Latest update 12:50pm) RAVENSWOOD, VA – During the late-morning hours of November 10, 2020, the U.S. Marshals and Task Force Officers based in the Southern District of West Virginia arrested fugitive Zane Chandler Christian on an outstanding warrant from Salem, VA for Homicide. On November 9th, Christian was allegedly involved in an assault of Rico Turner outside a Kroger supermarket at Main Street and Electric Road in Lakeside Plaza where the victim was struck by gunfire. The victim succumbed to his wounds.
Salem Police Department investigators filed an arrest warrant for Christian. Blacksburg PD also filed additional warrants for additional crimes as Christian fled. The U.S. Marshals Capital Area Regional Fugitive Task Force (CARFTF) based in Roanoke VA, coordinated with Salem PD, and the FBI who all worked jointly in the manhunt. Information was developed that Christian had fled to the area of Charleston, WV. With assistance from the U.S. Marshals Task Force out of Southern District of West Virginia, Christian was quickly arrested in Ravenswood, WV without incident. Cook is currently in custody in Jackson County West Virginia awaiting extradition back to Virginia.
(Update 11:20 am 11/10) Authorities are still searching for a suspect they say shot a man outside the Kroger at Lakeside Plaza in Salem before stealing a car in Blacksburg – and that man, 27 year old Rico Turner of Bedford, died last night. Police responded about 2 p.m. yesterday to reports of a shooting in the Kroger parking lot; and a man now identified as Turner was then taken to a hospital. Suspect Zane Chandler Christian of Christiansburg has now been charged by Salem Police with Felony Murder, Reckless Handling of a Firearm and three counts of Child Neglect. Christian is also sought in connection with a Blacksburg carjacking yesterday afternoon.
The suspect has been identified as Zane Chandler Christian, of Christiansburg. He has been charged by Salem Police with Malicious Wounding, Reckless Handling of a Firearm and three counts of Child Neglect.
(from City of Salem) Officers responded to the 100 block of Electric Road this afternoon around 2 pm after a 911 call came into dispatch at 1:55 pm, referencing a shooting in the parking lot of the Lakeside Plaza shopping center. Upon arrival, Officers found an adult male who had been shot. The victim was transported to the hospital with life-threatening injuries and the investigation is still very much underway.