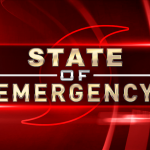 News release: Governor Ralph Northam today declared a state of emergency in anticipation of impacts from Tropical Storm Michael. The order is designed to mobilize resources, help Virginia mitigate any damage, and to streamline the process that the Commonwealth uses to provide assistance to other states through the Emergency Management Assistance Compact. State agencies are working closely with localities to identify any needs and to provide resources.
"As Tropical Storm Michael turns to the Commonwealth, I want to urge all Virginians to prepare for the serious possibility of flash floods, tropical storm force winds, tornadoes, and power outages," said Governor Northam. "I am declaring a state of emergency in order to provide state assets to Virginians and to assist our neighbors in states who are dealing with the devastating effects of this historic storm. My thoughts are with all those along with the Gulf Coast and my administration will continue our outreach to governors and state agencies where Hurricane Michael has produced widespread damage."
Virginians should visit www.VAemergency.gov to learn about how to prepare for hurricanes, tornadoes and flood threats. Remember to "turn around and don't drown." Do not drive across any flooded roadway, as it only takes six inches of water to move a vehicle and roads may be washed out beneath the floodwaters. Visit www.511Virginia.org or call 511 for real-time road conditions.