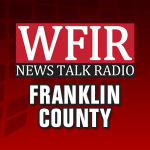 State Police say a Rocky Mount man died as the result of a traffic accident in the Sydnorsville area of Franklin County — but it wasn't the crash itself that killed him. Troopers say 45-year-old Kenneth Wade was trying to get out of his overturned SUV late last night when the vehicle shifted and trapped him underneath. He died at the scene. Police say a mechanical failure caused Wade's vehicle to leave the rural roadway.
From State Police:  Virginia State Police Trooper G. Goad is investigating a single vehicle crash which resulted in a fatality.  The crash occurred Wednesday, (Sep 5) at 11:20 p.m. on Briarpatch Lane, two miles west of Route 724 in Franklin County. A 2004 Chevrolet Tahoe was traveling on Briarpatch Lane when the vehicle had a mechanical failure which caused the vehicle to run off the right side of the roadway and overturn.
The driver of the Chevrolet was identified as Kenneth David Wade, 45, of Rocky Mount, Va.  Mr. Wade was attempting to exit the unstable vehicle after the crash, and was trapped when the vehicle shifted.  Mr. Wade died at the scene. The crash remains under investigation.