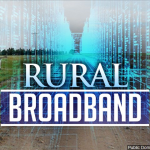 Botetourt County and rural electric cooperative are combining forces in efforts to attract a state grant, one that would help bring broadband internet access to some areas of the county where it is currently not available. Proponents say providing broadband service to rural areas now is just as important as bringing electric service to them was in the 1930's and 40's. WFIR's Evan Jones has more:
The grant application includes a public comment period that runs through November 30. Comments should be submitted by noon November 30 by mail, email or fax:
By mail:
Gary Larrowe
Botetourt County Administrator
1 West Main Street
Finacastle, Va 24090
Or by email to sfain@botetourtva.gov
Or by fax to (540) 473-8225.