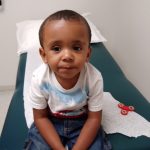 MISSING: Cayden Thomas Merchant
Gender: male
Race: Black
Approx. Age: 3 YR.
Height: 2 feet 00 inches
Weight: 29 Lbs
Hair: Black
Eyes: Brown
Date and Time of Abduction: Oct 23, 2017 06:30 PM
Circumstances: Child was last seen at 9124 Germont Ave, N. Chesterfield, Virginia. Child was last seen wearing a White flannel with orange and grey stripes Button up shirt.
Additional Significant Identifiers or Conditions of Child: scar on left side of head above eyebrow, scar on left side of nose and scar on right shin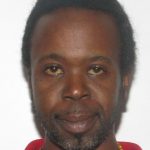 ABDUCTOR:James Benjamin King Black male, 5 feet 01 inches, 130 Lbs, short afro Black hair, brown eyes, wearing black with dead pool insignia t-shirt shirt, light blue jeans pants.
May be traveling in a 2016 Elantra Hyundai , Red , Virginia tag XWS-1828. towards Petersburg, VA.
ANYONE HAVING INFORMATION SHOULD CONTACT: Chesterfield PD at 1-804-748-1251 or Virginia State Police at 1-800-822-4453.