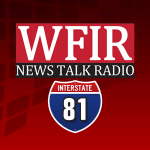 VDOT is planning to widen a two-mile section of Interstate 81 in Roanoke County, and while construction will not begin until 2021, the planning process is now underway. The project will widen 81 between the I-581 and Electric Road exits. Completion is expected in 2024. More on the project from WFIR's Evan Jones.
VDOT holds a design public hearing at Northside High School the afternoon of November 14th. Here are the full details:
 SALEM — On Tuesday, November 14, from 4:30 to 6:30 p.m., the Virginia Department of Transportation (VDOT) will hold a design public hearing to discuss a $62-million project to add a lane to both directions of Interstate 81 in Roanoke County between exit 141 (Salem) and exit 143 (Roanoke). The hearing will be held at the Northside High School located at 6758 Northside High School Road in Roanoke.
The project will add a two-mile lane on northbound I-81 between the on ramp at exit 141 and the off ramp at exit 143 and a two-mile lane on southbound I-81 between the on ramp at exit 143 and the off ramp at exit 141.  Adding a two-mile lane in both directions will alleviate congestion and provide for safer traffic movements between these exits.
As part of the project, sound walls will be considered along northbound I-81.
As of 2016, between 63,000 and 70,000 vehicles use the section of I-81 between exits 141 and 143 each day, making it the most heavily travelled portion of I-81 in Virginia.
The design public hearing is being held to provide an opportunity for citizens or organizations to give input on the project and will be held in an "open-house" format.  VDOT representatives will be present to discuss the project and answer questions.
Comments about the project may be submitted at the hearing or until November 24, 2017, by mail to Mr. Kelly Dunn PE, Virginia Department of Transportation, 731 Harrison Avenue, Salem, VA 24153.  E-mail comments can be sent to kelly.dunn@vdot.virginia.gov.  Please reference "I-81 Auxiliary Lanes – Roanoke County" in the subject heading.
Anyone requiring special assistance to attend and participate in this meeting may contact Kelly Dunn at540-387-5353, 800-367-7623 or TTY/TDD 711.