If you are planning to attend Microfestivus in downtown Roanoke this Saturday and need a ride after the event, Big Lick Boomerang will take you — and your vehicle — home. WFIR's Bob Clark has the story:
Click here for the Big Lick Boomerang web site.
The Navy's premiere bluegrass ensemble Country Current will perform a free concert next Wednesday in Roanoke. It will be one of only five concerts by the group in the country this year. WFIR's Bob Clark has the story:
A Roanoke woman who holds the title of Ms. Wheelchair Virginia will now compete for the national title. Allyson Hart and 24 other contestants will vie for the title of Ms. Wheelchair America later this month. She spoke with WFIR's Bob Clark:

Anyone needing to learn more about caring for an Alzheimer's patient can attend a presentation tomorrow at the Holiday Inn Valley View. The program is presented by the Local Office on Aging. Reservations are necessary and the cost to attend is $25. More from WFIR's Bob Clark.

The Roanoke Ronald McDonald House is again asking for help in designing a holiday card. The cards are printed locally and sold each year as a fundraiser for the non-profit charity. Executive WFIR's Bob Clark has more:
4-21 Holiday Cards Wrap #1-WEB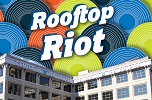 Center in the Square is getting ready for a big fund-raiser — and while they won't raise the roof for it, they'll be partying there.  The center says "Rooftop Riot" began last year and proved to be very successful. WFIR's Bob Clark has more:

Botetourt County Parks and Recreation has about 20 jobs available this summer, and it is holding a job fair tomorrow in efforts to find people to fill them. WFIR's Bob Clark has the story.

The Local Office on Aging that provides seniors with lunch through its Meals on Wheels program is asking for help to also include a breakfast. WFIR's Bob Clark has the story:

Another meeting providing information on the proposed changes in the Tanglewood Mall area is set for early next year. As WFIR's Bob Clark reports, County Administrator Tom Gates says the process is moving along:
Recent polls show Donald Trump is gaining on Hillary Clinton in Virginia and other states, and WFIR political analyst Bob Denton says if that continues, it could impact another important race: control of the U.S. Senate. More on this story from WFIR's Bob Clark.
3-presidential-race-wrap-2-web