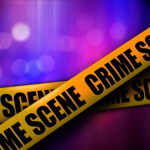 UPDATE: Roanoke Police have identified a weekend murder victim as 48-year-old Luis Morales. His body was discovered after firefighters responded to a call at a Westside Boulevard apartment. Police say they have not made any arrests, and they ask anyone who may have known Morales or his recent activities to contact them.
From Roanoke Police: The victim of the Westside Boulevard homicide victim on Saturday morning has been identified as Luis Enrique Morales, age 48, of Roanoke and the needed notifications have been made. The investigation is still ongoing and no arrests have been made. Anyone with information, or anyone who might have been acquainted with or a friend of Morales who can provide details on his recent activities, is encouraged to the call the department's criminal investigations unit at 540-853-5959.
Previously: The medical examiner in Roanoke has determined that the adult male found dead at a suspicious fire on Westside Boulevard northwest Saturday morning was the victim of a homicide. A Roanoke police spokesperson say his identity is being withheld pending family notification and the investigation that includes Roanoke Fire-EMS continues.