Ian Price
The Bedford County Sheriff's Office is investigating a string of larcenies from vehicles, specifically in the areas of Huddleston, Moneta, and Goodview.  These larcenies occurred between February 18 and March 2.  A stolen credit card from one of these larcenies was used at the Starbucks on Timberlake Road.  The female who used the card at the restaurant is pictured below.
Anyone who can identify the suspect is asked to contact Investigator R. Scott Arney with the Bedford County Sheriff's Office at 540-586-4800 x4063, or call Crime Stoppers at 1-888-798-5900. Visit the Central Virginia Crime Stoppers website at www.cvcrimestoppers.org to enter a web tip, or text "CVCS" plus your message to 274637.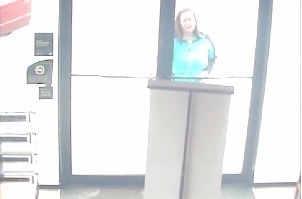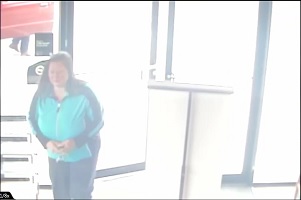 Virginia State Police are investigating a single vehicle fatal crash on Sunday at 1:04 am on Route 655 (Webster Road), two tenths of a mile east of Route 671 (Golden View Road) in Franklin County.  Officials say a 2005 Ford F-150 pickup was traveling east on Route 655 when it ran off the right side of the roadway, struck an embankment and overturned. The 2005 Ford was driven by 52-year-old Jarman Johnson, of Union Hall, VA. Johnson was not wearing his seatbelt and died at the scene.

Roanoke County Police say an 18-year-old black man ignored their commands to drop a pistol before he was fatally shot by officers. Roanoke County Police Chief Howard Hall says the weapon they recovered from Kionte Spencer after the deadly encounter Friday night was a BB gun that looks very similar to a 9 MM pistol. Hall says the officers involved in the shooting have been placed on administrative leave. He declined to say how many officers were involved.

Community activist Martin Jeffrey has filed to run as an independent candidate for Roanoke mayor. Jeffrey posted on his Facebook saying he has filed the paperwork with the registrar's office and is waiting for signatures to be certified. With no republicans running in the race, democrat Sherman Lea has been the only candidate running in the special election that's set for May 3.
On Saturday a little after 10:40 am, the Martinsville/Henry County Emergency 911 Center received a call from an individual who stated he was shot in the leg.  The caller, David Scott Guilliams, 43, of Bassett, stated he was en-route to the Memorial Hospital of Martinsville and Henry County.  Guilliams was treated for a gunshot wound to his right leg and subsequently released.
The Henry County Sheriff's Office had been searching for Danny Eugene Henley in reference to the shooting that occurred in the 3900 block of Blue Knob Road in Martinsville, on Friday at approximately 11:30 pm following an argument.
Danny Eugene Henley was arrested on Saturday at his residence located in Axton by the Pittsylvania County Sheriff's Office.  Henley was charged with Malicious Wounding, Use of a Firearm during the Commission of a Felony and Possession of a Firearm by a Convicted Felon.  He is being held in the Henry County Jail without bond.
Jason Lewis White, 38, of Axton, has also been charged with Attempted Malicious Wounding, Use of a Firearm during the Commission of a Felony and Possession of a Firearm by a Convicted Felon.  White is being held in the Henry County Jail without bond.
Anyone having information regarding this crime is asked to contact the Henry County Sheriff's Office at 276-638-8751 or Crimestoppers at 63-CRIME (632-7463).
UPDATED 11:00 am —  The two Virginia Tech students accused in the death of 13-year-old Nicole Lovell made their first courtroom appearances today. 18-year-old old David Eisenhauer faces first-degree murder and abduction charges. 19-year-old Natalie Keepers is charged with improper disposal of a body and accessory after the fact. No pleas were entered today, and the next court dates for both are  set for March 28th. So far, police have not indicated how Nicole was killed.
PREVIOUS:  Police in Blacksburg have charged two Virginia Tech students in connection to the death of Nicole Lovell, who went missing on Wednesday. Officials confirm a search and rescue team were on the scene yesterday at a Virginia Tech pond near the Veterinary Medicine building and could continue those efforts today. More from WFIR's Ian Price.