Clark Palmer
Update:Authorities say they have located  Radford teen Rebekah Sisson who has been missing since last week. There are no further details available at this time.
Radford Police are searching for a missing teenage girl. Authorities say 16-year-old Rebekah Sisson who was reported missing yesterday was last seen Tuesday at Radford High school. Her family says they last heard from her around 5 o'clock the day she went missing. Sisson is 5'6 and weighs 115 pounds, if you have any information about her whereabouts you are encouraged to contact police.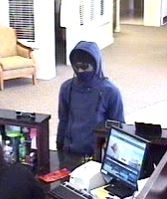 Roanoke Police are looking for a suspect who robbed the Hometown Bank on Franklin Road. Authorities say the incident took place around 1 p.m. Saturday when the suspect made off with an undisclosed amount of money after handing one of the tellers a note. Investigators do not know if the suspect is a man or woman but say the suspect is 5'8 and wore a hooded jacket, glasses, with cloth covering their face. If you have any information about the incident you are encouraged to contact police.