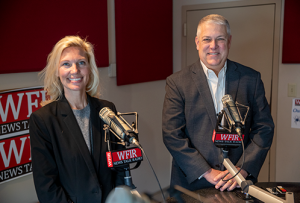 Virginia Technology Today Hosts John Phillips and Kim Blair
Virginia Technology Today highlights area leaders talking each week about technology trends in S.W. VA, Thursday mornings at 8:45am. The panel of guests for December 2 are Dr. William Hazel, former Secretary of Health and Human Resources for the Commonwealth of Virginia, and now the Senior Deputy Executive Director for the Claude Moore Foundation.  Delegate Terry Austin, Virginia House of Delegates, representing the 19th District.  Jeanne Armentrout, Executive Vice President and Chief Administrative Officer, Carilion Clinic, and Cynthia Lawrence, Director of the Office of Workforce Development, Carilion Clinic.
Virginia Technology Today- December 2 (Part 1 of a 2 part series).
Virginia Technology Today- November 25
Virginia Technology Today- November 18
Virginia Technology Today- November 11
Virginia Technology Today- November 4
Virginia Technology Today- October 28
Virginia Technology Today- October 21
Virginia Technology Today- October 14
Virginia Technology Today- October 7
Virginia Technology Today- September 30, 2021
Virginia Technology Today- September 23, 2021
Virginia Technology Today- September 16, 2021
Virginia Technology Today- September 9, 2021
Virginia Technology Today- September 2, 2021
Virginia Technology Today- August 26, 2021
Virginia Technology Today- August 19, 2021
Virginia Technology Today- August 12, 2021
Virginia Technology Today- August 5, 2021
Virginia Technology Today- July 29, 2021
Virginia Technology Today- July 22, 2021
Virginia Technology Today- July 15, 2021
Virginia Technology Today- July 8, 2021
Click Here for previous episodes