Health and Medicine
A support group for new mothers – "Huddle Up Moms" – is just getting off the ground in Roanoke, looking to help women find all of the resources they need after giving birth.  Huddle Up Moms is holding a free panel discussion and mixer, "Love Your Body," Tuesday afternoon at 5 Points Music Sanctuary. Hear our complete live in-studio conversation below or watch it on the WFIR news Facebook page.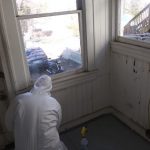 A new round of funding from HUD means more low-income residents in the City of Roanoke are having their homes made "Lead Safe." Mitigation includes removing exposing lead and dust, and repainting. Qualified applicants must also have a child less than 5 years old living in the home. Today the contractors hired by the Lead Safe program were working on Greenbrier Avenue in Southeast Roanoke. Katie Kennedy is the project manager for the city's program:
The Council of Community Services gets ready to open its new testing center satellite location on Williamson Road next Monday – that's where people battling substance abuse seeking clean needles and syringes must also fill out the paperwork first. The Council of Community Services will also test for HIV and Hepatitis on Williamson Road as it does at the Campbell Avenue main office – but the C-C-S director pointed out today that NO needle exchanges will take place on Williamson Road – only at a mobile unit in various locations. Anne Marie Green says CCS has been "a good neighbor" at its long time Roanoke home and in 3 other localities, but at today's Roanoke City Council meeting Williamson Road Area Business Association executive director Valerie Brown and several companies on that corridor objected:
With the flu season now in full swing, new visitation restrictions are now in place at all Centra facilities. They include no more than two visitors at a time to any patient – and children should not be brought in unless they need medical attention. Centra says anyone with any flu or cold-related systems should stay away from patients. The  health system is based in Lynchburg, and its facilities include Bedford Memorial Hospital.
NEWS RELEASE:  Due to the increased prevalence of flu in our area, all Centra facilities are implementing temporary visitation restrictions.
In order to protect our patients from flu and other infectious diseases, we have implemented new visitation restrictions. We respectfully ask our community to follow these new guidelines during the remainder of the flu season; Visitation is limited to healthy adults
Please do not visit if you are sick, have a fever, cough, runny nose, sore throat, headache, muscle or joint pain
For protection of children and patients, it is highly recommended children not be brought into any Centra facility unless medical attention is needed
Please no more than two visitors at a time per patient
These restrictions aim to protect patients and halt the spread of influenza and other infectious diseases. Centra will lift this temporary restriction once the flu season has declined. Other area healthcare facilities and hospitals are adopting similar visitation restrictions. These restrictions are effective immediately.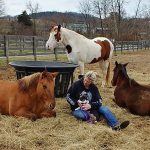 Three-plus years of donations and volunteer labor have led to the opening of a permanent veteran center at New Freedom Farm in Buchanan. Now the healing place for veterans and others suffering from PTSD or substance abuse is holding an open house. More from WFIR's Gene Marrano: