Crime and Public Safety
From Roanoke City Police: On February 19, 2018 at 8:51 p.m., Roanoke Police responded to a robbery in progress call at the Exxon convenience store in the 2800 block of Hershberger Road N.W. On officer's arrival they were advised that a black male in his teens or to early 20's, described as 5'6 tall, and thin build came into the store with his face covered and demanded the clerk open the register. The male reached towards his waistband, acting as if he had a weapon. No actual weapon was displayed. The male subject removed cash from the register and fled on foot. Anyone with information on this subject's identity is encouraged to call the RPD tip line at 540-344-8500. Callers can choose to remain anonymous.
The City of Salem's Police Officer of the Year for 2017 is Cody Keen, a 25-year-old patrolman who hails originally from Richlands. Keen was cited for his work on two cases last year – one involving a woman trapped in a car filled with smoke, the other a drugstore robbery where Keen saw the suspect leaving with bags of prescription drugs. Keen hopes to become a detective some day with a focus on human trafficking crimes.
From Salem Police: Salem's Police Officer of the Year for 2017 is a young man with a passion for helping others, who also has exhibited a level of maturity way beyond his years. Cody Keen, a 25-year-old Richlands native, helped bring order to two very different crime scenes with his quick thinking a nd calculated actions in 2017. As a result, his peers at the Salem Police Department have selected him for this prestigious annual honor. "I am very grateful that they think I am worthy of this award, but I just happened to be in the right place at the right time," says Keen. "I know for a fact, that every single one of the people I work with would have done the same things that I did." His selection is even more impressive when you consider that Keen has been employed at the Salem Police Department for less than two years. Last July, he and his wife were traveling near Valley View Mall when they encountered a car full of smoke sitting in the roadway. Keen was off-duty at the time, and after approaching the vehicle, he realized the doors and the windows would not open and that a female driver was trapped inside. "For whatever reason a car jack was laying on the side of the road and I was able to use that to break the glass, and convince her to climb out of the window to safety," he says. Roanoke City Police Officers arrived on the scene as she was exiting the car and after further investigation, they determined that the female was involved in a DUI accident earlier in the evening and they arrested her. Later in the fall, on Halloween night, Keen was on-duty when he responded to an alarm call at the CVS Drug Store, located at Lakeside Plaza on Electric Road. "I was working on a report in the parking lot when the call came in that night," says Keen. "Normally, I check the main door first for an alarm call, but in this instance, something told me to pull around to the back first." When he drove to the rear of the business, he saw a man exiting the store carrying bags of merchandise in both hands. As Keen approached the suspect at his car, the man denied any involvement, placed the bags in his trunk, but then tried to flee the scene on foot. "We were able to apprehend him and keep a good amount of prescription drugs off the street," says Keen.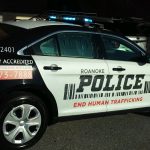 (from Roanoke PD) On February 18, 2018 at 9:32 am. Roanoke Police were dispatched to a call of a body inside of a parked vehicle in the 3000 block of Lombardy Avenue NW, Officers located a silver 2005 Toyota 4-Runner with Virginia tags JXB-5607. The car was parked legally on the street.  A deceased white male was inside of the vehicle. The vehicle is associated with the missing male, Nicholas Sherman, who was reported missing to the Campbell County Sheriffs Office, and was possibly believed to be in the Roanoke area. Roanoke Police detectives and forensic personnel have worked to confirm the identity of the male, collect physical evidence, and interview other individuals. The body has been identified as that of the missing male, Nicholas Sherman. Roanoke Police and the Campbell County Sheriffs Office have worked together to make the proper notifications throughout the day. The body has been taken to the Medical Examiners Office for an autopsy to determine the cause and manner of death. The investigation is ongoing, and is in the preliminary stages. Roanoke Police are asking that anyone having information to assist in this investigation, or knowing of Sherman's activities since being reported missing, to please call the RPD Tip Line at (540) 344-8500 .  Callers can choose to remain anonymous.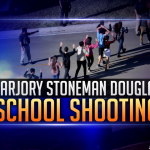 (from ABC News) Student organizers of the protest told ABC News' "This Week" Co-Anchor Martha Raddatz on Sunday that they are determined to use protests and political action to make the mass shooting at Marjory Stoneman Douglas in Parkland, Florida, a turning point in the national debate over gun control. "People keep asking us, what about the Stoneman Douglas shooting is going to be different, because this has happened before and change hasn't come?"
Cameron Kasky, an 11th-grader told Raddatz. "This is it." Called "March for Our Lives," the demonstration in Washington is to be on March 24, according to Kasky and four of his classmates whom Raddatz also interviewed — Emma Gonzalez, David Hogg, Alex Wind and Jaclyn Corin. In addition to the march in Washington, the organizers also plan protests in other cities around the country.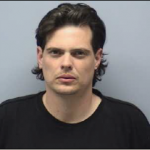 (Roanoke PD release) UPDATE – the suspect was found in Bedford and has been taken into custody. (original release) On February 17, 2018 at 7:00 PM Roanoke Police stopped a vehicle on 9th Street and Bullitt Avenue S.E. for a traffic violation. A passenger Richard Thomas Hale age 36 of Vinton (pictured) was found to have a warrant for Unauthorized Use of a Motor Vehicle. Hale was placed under arrest and placed in the back seat of the officers vehicle. The officer went back to the stopped vehicle to gather additional information related to the traffic stop. Upon the officer's return to the police car, Hale was no longer in the vehicle. A perimeter was established and attempts to locate him were unsuccessful. Anyone with information on Hale's location is asked to call 911. Hale is described as being 6′ tall, 200 pounds and last seen wearing a green flannel shirt and jeans.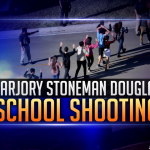 BLACKSBURG, Va. (AP) – The president of Virginia Tech says the Florida high school where a gunman is accused of fatally shooting 17 people helped his university heal after its own deadly campus shooting over a decade ago. President Timothy Sands tweeted a link Friday to Virginia Tech's condolence archive , which catalogs the items it received after a gunman fatally shot 32 people in 2007. Among them is a handmade book from Marjory Stoneman Douglas High School in Parkland, Florida. Sands says, "We will never forget that you helped us to heal." The shooting at Virginia Tech was, at the time, the deadliest mass shooting in recent U.S. history. Authorities say a 19-year-old who'd been expelled from the Florida school opened fire there Wednesday, killing 17 people and wounding more than a dozen others.
Former Salem Red Sox baseball player Anthony Rizzo is now a star with the Chicago Cubs – but he hasn't forgotten his roots. Rizzo attended Marjory Stoneman Douglas High School in Parkland, Florida – where 17 people were killed in a mass shooting on Wednesday. Last night he came home to speak at a candlelight vigil. WPEC-TV was there to record the moment. Rizzo told those at the vigil that "the entire country" was grieving along with those in Parkland. He also said "something has to change" before another community suffers the same fate.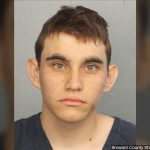 PARKLAND, Fla. (AP) — Months before authorities say Nikolas Cruz walked into his former high school and slaughtered 17 people, the troubled teen began showing what may have been warning signs he was bent on violence.
"Im going to be a professional school shooter," a YouTube user with the screen name "Nikolas Cruz" posted in September.
The 19-year-old got expelled last year from Marjory Stoneman Douglas High School for undisclosed disciplinary reasons. And less than a year ago, the former Junior ROTC cadet bought a military-style AR-15 rifle.
As investigators tried to establish the motive for Wednesday's shooting rampage, students and neighbors portrayed Cruz as an often strange and hostile figure who threatened others, talked about killing animals, and posed with guns in disturbing photos on social media.
"I think everyone had in their minds if anybody was going to do it, it was going to be him," 17-year-old Dakota Mutchler said after Cruz was identified as the gunman in the nation's deadliest school shooting in more than five years.
Benjamin Bennight, a Mississippi bail bondsman, was concerned enough after seeing the "professional school shooter" comment on his Youtube channel that he took a screenshot of it on his phone and called the FBI. Two FBI agents visited Bennight the next day.
But the FBI said it never spoke to the Florida teen.
"No other information was included in the comment which would indicate a particular time, location or the true identity of the person who posted the comment," said Brett Carr, a spokesman for the FBI office in Jackson, Mississippi. "The FBI conducted database reviews and other checks but was unable to further identify the person who posted the comment."
Math teacher Jim Gard told The Miami Herald that Cruz may have been seen as a potential threat well before the rampage. Gard said he believes the school had sent out an email warning teachers that Cruz shouldn't be allowed on campus with a backpack.
"There were problems with him last year threatening students, and I guess he was asked to leave campus," Gard told the newspaper.
Student Victoria Olvera, 17, said that Cruz had been abusive to his ex-girlfriend and that his expulsion was over a fight with her new boyfriend. Cruz had been attending another school in Broward County since the expulsion, school officials said.
Cruz had on a maroon polo shirt bearing an ROTC insignia and the school's eagle mascot when he was arrested off school grounds about an hour after the attack. Investigators said he slipped away during the chaos by mixing in with the other students.
Jonathan Guimaraes, 17, told the Herald that he had been in JROTC with Cruz. "He was quiet, nice," Guimaraes said. "That's how he was able to blend in. He was wearing his JROTC uniform."
Cruz was an orphan — his mother, Lynda Cruz, died of pneumonia Nov. 1, and her husband died of a heart attack years ago, neighbors, friends and family members told the Sun Sentinel. The couple had adopted Nikolas and his biological brother.
Around Thanksgiving, Nikolas Cruz moved in with a friend's family.
According to lawyer Jim Lewis, who represents but did not identify the family, they knew that Cruz owned the AR-15 but made him keep it locked up in a cabinet and never saw him go to a shooting range with it. He did have the key, however.
Cruz passed a background check and legally purchased the semi-automatic rifle from a dealer in Florida in February 2017, authorities said.
The family is devastated and shocked, Lewis said. During the three months Cruz lived there, he was respectful and quiet but also sad over his mother's death, the lawyer told the AP.
"No indication that anything severe like this was wrong," Lewis said. "Just a mildly troubled kid who'd lost his mom. … He totally kept this from everybody."
Jordan Jereb, head of a white nationalist group called the Republic of Florida, said Thursday that Cruz was a member and had taken part in paramilitary drills with the organization. But investigators said they have not confirmed any such ties.
"We've heard that. We're looking into that," Broward County Sheriff Scott Israel said.
Cruz's attorney, Melisa McNeill, said after a court hearing Thursday on the murder charges against the young man that Cruz was sad and remorseful and "just a broken human being."
"When you don't have the support system, that affects who you are, and that affects the people around you," McNeill said. "And when your brain is not fully developed you don't know how to deal with these things."
Cruz was getting treatment at a mental health clinic for a while but hadn't been there for more than a year, Broward County Mayor Beam Furr told CNN.