Across Virginia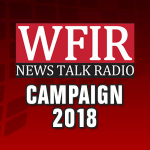 RICHMOND, Va. (AP) — Two contenders for the Republican U.S. Senate nomination in Virginia clashed Saturday in the first debate of the primary race. Corey Stewart, a candidate for governor last year, and state Del. Nick Freitas of Culpeper squared off in a debate before the Virginia Tea Party in Richmond. The Richmond Times-Dispatch reports that Stewart, chairman of the Prince William Board of County Supervisors, tried to portray Freitas as politically inexperienced. He said Democratic U.S. Sen. Tim Kaine would "chew him up and spit him out." Freitas said Stewart has divided the Republican Party and has "some problems with the truth from time to time."
Kaine is seeking a second term in the Senate after his 2016 loss in the presidential election as Hillary Clinton's running mate. Stewart and Freitas are the only two candidates so far who have submitted enough signatures to qualify for the June 12 GOP primary ballot. The deadline is March 29. Freitas defeated Stewart in a straw poll of 217 people at the Tea Party's spring conference. Freitas drew 65 percent to 35 percent for Stewart, according to Tea Party chairman Rick Buchanan.
On stage, both two candidates supported the tax cut signed by President Donald Trump last year and called for cuts in federal spending. Both called for stronger enforcement efforts against illegal immigration and both agreed with Trump's concept of building a wall on the U.S. border with Mexico. Stewart said he's not afraid of getting into the gutter to fight Democrats and can stand up to Republican leadership when needed. Freitas spoke of his 11 years in the military, including two overseas combat tours, and said he wanted to focus on the power of the individual, not the government.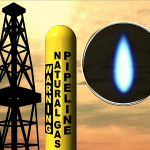 RICHMOND, Va. (AP) — Developers of the proposed Atlantic Coast Pipeline have asked federal regulators for more time to cut down trees along the project's route, saying they likely can't finish the work under an initial deadline designed to protect birds and bats. The request, which drew criticism from pipeline opponents, was made in a letter to the Federal Energy Regulatory Commission posted online Friday. "Despite their best efforts, it now appears that Atlantic and (Dominion Energy Transmission Inc.) will be unable to complete the scheduled tree felling" in West Virginia, Virginia and North Carolina on time, the letter said. It seeks approval to continue cutting trees to clear the way for construction of the 600-mile (970-kilometer) natural gas pipeline until May 15, with certain exceptions. The proposed modification would still provide "equal or greater" environmental protection, the letter said.
Developers initially agreed to the tree-felling restrictions to protect migratory birds, and threatened and endangered species — two types of bats, in this case. The time restrictions vary from state to state but generally prohibit tree cutting between mid-March or early April through mid-September or mid-November. The earliest restriction to kick in was Virginia's migratory bird window, which started Thursday. Pipeline spokesman Aaron Ruby said in an email that about 40 percent of the work in Virginia has been completed. Completing the tree felling within one season would limit "the amount and frequency of disturbance in the general area, benefiting landowners. Finally, failure to complete the tree felling will affect the 2018 construction season," the letter said.
A presentation Dominion recently gave state environmental officials, obtained through a public records request and provided to The Associated Press, provides insight on the business impacts project delays would have. The presentation said that if "full mechanized construction" can't start until spring, there would be a $150 million to $200 million impact. If only partial construction is started by summer, there would be a $250 million to $350 million total impact, the presentation said. Finally, it said that if "we cannot start in time to ensure a full and efficient construction season and have to delay service by one year, the impact would be $1 billion."
According to the letter, the proposed modification will be at least as environmentally protective as the initially agreed-to limits. "Biological monitors will survey all work sites before we begin any tree felling," Ruby said. "If we find any bird nests, we'll place a protective buffer around them. All of the work will be closely monitored by state and federal inspectors." But opponents said the request should be denied. "It would be unconscionable for FERC to allow Dominion to slide around an important protection merely for the company's convenience," said David Sligh, conservation director for Wild Virginia, which is fighting the pipeline. "Too much destruction has already been caused. It must not be allowed to continue," he said.
Separately Friday, the Virginia Department of Environmental Quality issued a violation notice to the pipeline for conducting tree felling work in buffer areas intended to protect stream and wetlands crossings, in violation of state law. The notice covers self-reported violations on 15 separate sites resulting in an estimated 0.84 acres (0.34 hectares) in impact to wetlands and streams, according to a statement from the department. Ruby said immediate steps were taken to prevent such a violation from happening again, including halting all work on the project for three days "to determine the root cause and reinforce environmental compliance" with work crews. "We will have zero tolerance for regulatory non-compliance, and we have reinforced this policy with all employees and contractors associated with the project," he said in an email.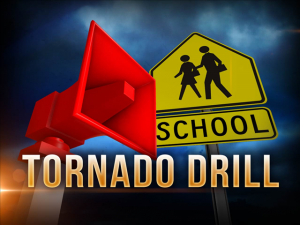 RICHMOND, Va. (AP) – A statewide tornado drill will be held in Virginia next week. The drill scheduled for Tuesday is an annual opportunity to prepare residents for tornado emergencies and to test public warning systems. At approximately 9:45 a.m., the National Weather Service will send a test tornado warning test over National Oceanic and Atmospheric Administration weather radios. The test signal will sound a tone alert, show a test message or flash to indicate a message, simulating what people would hear or see during an actual tornado warning.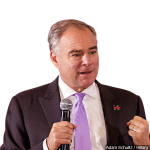 Senator Tim Kaine presented more than 18,000 petition signatures today as part of his re-election effort; 10,000 are need to be on this fall's ballot. Kaine's campaign says the signatures come from across the state, gathered at community events like fairs and festivals.
News release: Today, Tim Kaine formally filed his required ballot qualifying petitions with more than 18,000 signatures, far exceeding the 10,000-signature requirement, in his re-election campaign for the U.S. Senate. A team of volunteers has collected signatures from all four corners of the Commonwealth — from Loudoun to Lee, and from Alleghany to Accomack — at more than 150 fairs, festivals, and community events. More than half of all signatures are from women, more than a third are people of color, and ages range from 18 to 80. The final count is comprised of signers from both urban and rural regions, as well as from Democrats, Independents, and Republicans. Virginia Senate candidates must submit 10,000 total signatures to the State Board of Elections by the end of March to qualify for the ballot, with at least 400 signatures collected from each congressional district.
—Dogs in wineries: You could soon be able to bring your dog inside with you on your drinking adventure under legislation that passed both chambers by a wide margin. The bill says dog may be allowed inside breweries, wineries and distilleries as long as they're not in areas used for food production.
—Cursing: Lawmakers opted not to eliminate the crime of profanely swearing or cursing in public. A bill from GOP Del. Michael Webert that would have done away with the crime currently punishable as a Class 4 misdemeanor died in committee.
—Fornicating: Lawmakers also chose not to repeal the crime of fornication, which bill sponsor Del. Mark Levine called outdated and silly. That measure, too, failed to advance out of committee.
—Raccoon hunting: Raccoon hunters, rejoice. The prohibition on hunting or killing the animals after 2 a.m. on Sunday is no more after Gov. Ralph Northam approved this bill sent to his desk with widespread support.
— State salamander: The red salamander has become Virginia's official state salamander thanks to this bill .
— Boozy confections: Lawmakers signed off on creating a confectionary license that allows a person to sell treats infused with alcohol, but no more than 5 percent by volume.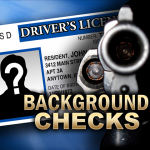 SEATTLE (AP) — Recent mass shootings have spurred Congress to try to improve the nation's gun background check system that has failed on numerous occasions to keep weapons out of the hands of dangerous people.
The problem with the legislation, experts say, is that it only works if federal agencies, the military, states, courts and local law enforcement do a better job of sharing information with the background check system — and they have a poor track record in doing so. Some of the nation's most horrific mass shootings have revealed major holes in the database reporting system, including massacres at Virginia Tech in 2007 and at a Texas church last year.
Despite the failures, many states still aren't meeting key benchmarks with their background check reporting that enable them to receive federal grants similar to what's being proposed in the current legislation.
"It's a completely haphazard system — sometimes it works; sometimes it doesn't," said Georgetown University law professor Larry Gostin. "When you're talking about school children's lives, rolling the dice isn't good enough."
In theory, the FBI's background check database, tapped by gun dealers during a sale, should have a definitive list of people who are prohibited from having guns — people who have been convicted of crimes, committed to mental institutions, received dishonorable discharges or are addicted to drugs.
But in practice, the database is incomplete.
It's up to local police, sheriff's offices, the military, federal and state courts, Indian tribes and in some places, hospitals and treatment providers, to send criminal or mental health records to the National Instant Criminal Background Check System, or NICS, but some don't always do so, or they may not send them in a timely fashion.
Some agencies don't know what to send; states often lack funds needed to ensure someone handles the data; no system of audits exists to find out who's not reporting; and some states lack the political will to set up a functioning and efficient reporting process, experts said.
"The system is riddled with opportunities for human error," said Kristin Brown, co-president of the Brady Campaign to Prevent Gun Violence.
A proposal in Congress seeks to establish a structured system for federal agencies to send records to the NICS database. Sen. John Cornyn of Texas says the legislation — often referred to as "Fix NICS" — will save lives.
"We should start with what's achievable and what will actually save lives, and that describes the 'Fix NICS' bill. It will help prevent dangerous individuals with criminal convictions and a history of mental illness from buying firearms," the Republican said.
Often left out of the debate in Washington is the fact that similar legislation passed after the 2007 Virginia Tech massacre, but many records are still not being sent to the database.
The Justice Department even set up a new grant program that offered states help with their reporting system, but many didn't even bother to apply. In 2016, only 19 states and one tribe received funds totaling $15 million. The number of states currently participating is 31.
Several states aren't eligible for the grant because they haven't set up a system that allows a person who was prohibited from having a gun due to mental health issues get their rights restored. The National Rifle Association has long-pushed for those types of restoration requirements, Brown said.
Important mental health records that would have kept Seung-Hui Cho from getting the guns he used to kill 32 people at Virginia Tech were never entered into NICS. The gunman who killed dozens at a Texas church in November was able to purchase weapons because the Air Force didn't send his domestic violence conviction to the database.
And the father of a teenager who killed himself and four classmates at a Washington state high school in 2014 was able to purchase several guns, including the one his son used, because the Tulalip Tribal Court had not shared his domestic violence protection order with Marysville, Washington, authorities, who would have sent it to the background check system.
Since then, the tribe received a $333,841 grant to help improve its criminal records reporting.
The man who walked into a Carson City, Nevada, IHOP restaurant with an assault weapon in 2011 and killed four people had a history of mental illness, had been diagnosed with schizophrenia and had been taken into custody by police in nearby California under the state's involuntary commitment law. But under federal law, people are only prohibited from having a firearm if they have been "adjudicated as a mental defective" or committed to a mental institution.
The federal law doesn't include involuntary commitments.
Some states have enacted their own laws that limit gun ownership based on mental health issues, but they're all different, according to a report by the National Conference of State Legislatures.
Experts say many agencies don't know what type of mental health information to send to NICS. Brown said many agencies, hospitals and treatment providers are under the mistaken impression that federal medical privacy laws prevent them from sharing information with the system.
Carson City Sheriff Ken Furlong, who handled the IHOP mass shooting, said the biggest roadblock to creating a comprehensive NICS system is privacy concerns. Some are afraid that if they report their family members, they'll be arrested, he said, and agencies feel stifled by privacy laws.
"When someone is in crisis, why are we waiting to respond?" Furlong asked. "We have a public safety responsibility to prevent something from happening before we have to use force."
The federal legislation being considered in Congress might help ensure more criminal records reach the background check database, but it has limitations because Congress can't force states to enact laws. And it doesn't address gaps in mental health commitment reporting, said Gostin.
"Because mental health records are critical to the integrity of the system," he said, "the bill leave a significant gap."
Some states have passed their own laws requiring agencies to report to NICS, but few keep track of whether that's happening and most don't have penalties for failing to submit records.
"They're not reporting but there are no repercussions," said Cassandra Crifasi, with the Johns Hopkins Center for Gun Policy and Research. "What is there to encourage people to follow the law?"

From Press Release: Energized by backlash to President Trump, Virginia Democrats head into the 2018 midterm elections with significant advantages, according to a new voter survey by the Wason Center for Public Policy at Christopher Newport University. "The question is no longer whether there is a Blue Wave coming, but rather, how high the storm surge will get," said Rachel Bitecofer, assistant director of the Wason Center.
Significantly more Democrats (60%) than Republicans (45%) are 'very enthusiastic' about voting in November. Voters prefer Democrats to Republicans on the generic ballot (45%-33%) and want Democrats to control Congress after the election (51%-38%). Those gaps widen among likely voters. "This enthusiasm gap suggests several Republican House seats could be in play," said Bitecofer, singling out the 1st, 2nd, 7th, and 10th districts.
Half of the voters surveyed (50%) say they believe individuals in the Trump campaign coordinated with the
Russian government to interfere in the 2016 election, while 42% said they do not believe any coordination
happened. Party identification is a strong determinant, with 81% of Republicans rejecting the idea of collusion
and 81% of Democrats believing it. Independents are evenly split.
On issues, Virginia voters overwhelmingly support the Dream Act (71%-25%), which provides a pathway to
legal status or citizenship for children brought into the country illegally by their parents. They strongly oppose
drilling for oil off Virginia's coast (54%-37%), a ban on which was recently lifted by President Trump. And
they are evenly divided on the recently enacted Tax Cut and Reform Bill (45% approve-47% disapprove).
"From the enthusiasm gap to the Dream Act to collusion with the Russians, a sharp partisan divide is evident
among Virginia voters," said Quentin Kidd, the Center's director. "Nine months out, it looks like we're setting
up for a base election with Democrats holding an upper hand."
The full report is available here.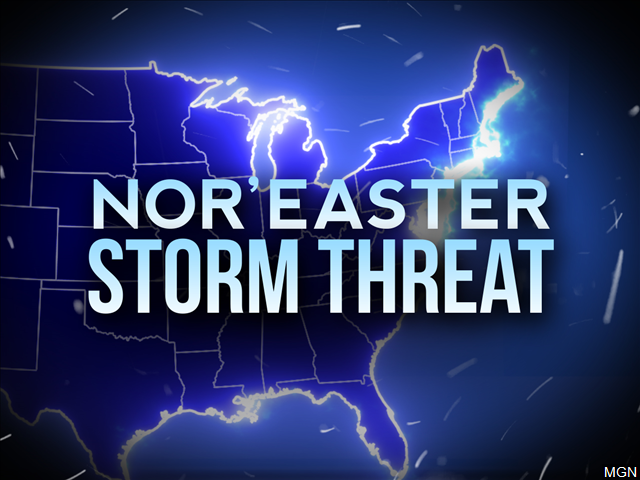 RICHMOND, Va. (AP) — Authorities in Virginia say a man and a six-year-old boy have died after being injured by falling trees as a nor'easter brought gusty winds to the state.
Gov. Ralph Northam declared a state of emergency Friday afternoon, as the storm pounded the East Coast, also packing heavy rain and intermittent snow further north.
In James City County, police said one man died after wind toppled a tree onto a vehicle.
In Chester, local media report a 6-year-old boy died after a tree fell on his home.
The wind also led to widespread power outages, prompted school closures, snarled traffic and closed bridges.
Hundreds of flights were also canceled at airports throughout the region.
Appalachian Power reports tens of thousands of Virginia customers are without power today, the result of the strong winds expected to stay with us into tomorrow morning. Utilities say crews will not be able to make repairs in some cases where wind gusts remain dangerously high.
The Virginia Department of Emergency Management reports more than 400,000 Virginians were without power Friday afternoon, the result of widespread outages caused by the strong winds that won't leave any time soon. Major utilities say some repairs will have to wait, because it's dangerous in places to raise bucket trucks.
Today's winds are leading to some flight cancellations into and out of Roanoke-Blacksburg Regional Airport, mostly involving destinations to our north like Washington and Philadelphia. For the most part, flights to other cities are still a "go".
RICHMOND, Va. (AP) _ High winds are causing power outages, school and work closures and traffic problems across Virginia. The winds are part of a major nor'easter that was pounding the East Coast on Friday, also packing heavy rain and intermittent snow further north.  The Chesapeake Bay Bridge-Tunnel was closed to all traffic Friday morning and into the afternoon. Some roads were blocked by downed trees, and local media report a 6-year-old boy was in critical condition after a tree fell on his home in Chester. A ground stop was ordered at Dulles International Airport around noon Friday after 70 mph (113 km/h) gusts forced the temporary evacuation of a control tower. Hundreds of flights were canceled at airports throughout the region. Both Dominion Energy and Appalachian Power were reporting widespread outages.
State Police say the driver of a college bus is charged with driving under the influence of drugs after the bus overturned today on Interstate 81. It happened this morning on the northbound side in Pulaski County. Police say the West Georgia Technical College bus sideswiped a tractor trailer, ran off the road and overturned. None of the13 people aboard is believe to be seriously hurt. 59-year-old Willie Walker faces a marijuana possession charge along with DUI.
News release: State Police say the driver of a college bus is charged with driving under the influence of drugs after the bus overturned today on Interstate 81. It happened this morning on the northbound side in Pulaski County. Police say the West Georgia Technical College bus sideswiped a tractor trailer, ran off the road and overturned. None of the13 people aboard is believe to be seriously hurt. 59-year-old Willie Walker faces a marijuana possession charge along with D-U-I.