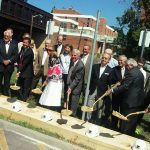 When the doors open it will be the biggest building on the community college campus. WFIR's Gene Marrano has more on a major change coming at Virginia Western:

The Senate is expected to vote today on whether or not to repeal – or repeal and replace – the Affordable Care Act, but as WFIR's Ian Price reports they won't have any support from senators here in the commonwealth:
Bedford County Sheriff's Office officials obtained arrest warrants for five people in connection to thefts in Moneta and Stewartsville. The thefts occurred between the middle of June and the middle of July. All five were arrested yesterday.
The U.S. Senate is expected to vote as early as today on several versions of a health care bill crafted by Republicans. The Democratic candidate for Governor in Virginia will be watching. WFIR's Gene Marrano reports:

A new statewide poll shows the race for Virginia governor is currently neck-and-neck. The Monmouth University Poll finds 44% of those questioned favoring Democrat Ralph Northam — and an equal 44% for Republican Ed Gillespie. It also finds that support for and opposition to President Trump has the potential to impact the fall election. More from WFIR's Evan Jones.
07-25 Monmouth Poll Wrap-WEB-WEB
Click here for full Monmouth University Poll results and methodology.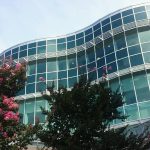 For the first time in its 8-year history there are more female freshman students at the Virginia Tech-Carilion School of Medicine than male. More on the Class of 2021 from WFIR's Gene Marrano:

While many are making plans to watch the eclipse next month researchers at Virginia Tech are preparing to study its effects. WFIR's Ian Price has details:
Ridership is up almost 3%t so far this year at Roanoke-Blacksburg Regional Airport, and airport officials say that can greatly assist their efforts to increase flights and destinations — and see local airfares go down. They say airlines take notice when the passenger count increases, and that boosts the chances of more flights and lower prices. WFIR's Evan Jones has the story:
07-24 Airport Passengers Wrap2-WEB

The Town of Vinton is taking a page out of Roanoke City's book by using historic tax credits to create downtown living spaces. WFIR's Gene Marrano has more from the town's Mayor:
RICHMOND, Va. (AP) – The Atlantic Coast Pipeline intended to carry natural gas across West Virginia, Virginia and North Carolina would have some adverse environmental effects, including impacts on water resources, forest and other habitats, an assessment by federal regulators found. The Federal Energy Regulatory Commission, which oversees interstate natural gas pipelines, released its final environmental impact statement Friday for the proposed 600-mile (965-kilometer) pipeline, which has broad support from political and business leaders but is staunchly opposed by environmentalists and many affected landowners.The assessment found that if developers use proper construction and mitigation techniques, most of those environmental impacts could be reduced to "less-than-significant" levels. The release of the report sets the stage for a final decision from the commission on whether the project can proceed. The agency's commissioners will weigh the environmental impact statement as well whether the project meets a public need and whether its proposed gas rates are just and reasonable in making that decision, according to FERC spokeswoman Tamara Young-Allen.