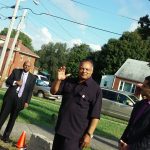 Its all about registering and then getting out to vote. That's the message Jesse Jackson brought to the valley today, with stops at High Street Baptist Church this morning and a noon-time town hall at Roanoke College.  Before speaking at High Street Baptist, Reverend Jackson called it "massive voter registration drive" taking place in time to make an impact on the statewide and delegate races on November 7th.
Roanoke's new city manager says to whatever degree Roanoke may have a downtown parking problem, it is in some ways a good problem for any city. Bob Cowell says managing any parking issues is a much better problem than figuring out how to get people to come downtown. More from WFIR's Evan Jones.
Cowell is beginning his third week on the job, an he joined us live this morning on the Roanoke Valley's Morning News. While acknowledging that he still has much to learn, he did offer signs of how he perceives Roanoke at the moment and the challenges facing the community. Here is the full conversation:
Some Republican members of Congress are floating another health care reform idea: block grants to states. But Roanoke's State Senator calls "a terrible idea", as WFIR's Gene Marrano reports.
Republican candidate for governor Ed Gillespie spoke live on WFIR Friday, covering issues that include his proposals to improve Interstate 81, Republican attacks on his background as a Washington lobbyist, and Ralph Northam's attendance record on state boards and agencies. Here is the full conversation:

An exhibit at the Salem Museum showcases Roanoke College's relationship with the city of Salem, as it celebrates its 175th anniversary. WFIR's Clark Palmer has more.
The University of Virginia has selected its next president. James Ryan is currently dean of the Harvard Graduate School of Education. The Board of Visitors approved his hiring today. Ryan is no stranger to Charlottesville; he was first in his class at UVA's School of Law, and he was later a professor and assistant dean at its law school. Ryan's transition will begin next summer, and his term officially begins October 1, 2018. He will succeed Teresa A. Sullivan, who has served as the university's president since 2010.
(Continue reading for the full University of Virginia news release.)

RICHMOND, Va. (AP) _ Virginians are no longer at risk of not being able to buy health insurance on their own and not through an employer next year. Health insurer Anthem announced Friday that it is reversing a decision to pull out of federal health law's insurance marketplace and offer plans in 68 cities and counties. Anthem said it made the decision after another health insurer announced earlier this month it was pulling back out of some Virginia markets next year, leaving about 60,000 residents of several counties and cities in Virginia with the prospect of not having any plans to buy next year.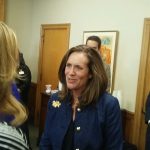 Virginia First Lady Dorothy McAuliffe addressed the annual Feeding America-Southwest Virginia Partner Program Conference at Second Presbyterian Church in Roanoke today, where the focus – as always – was on ending hunger.Feeding America-Southwest Virginia works with 350 partner agencies in the Roanoke Valley and in southwestern Virginia. The First Lady's husband – Governor Terry McAuliffe – was also in the valley today, taking part in a roundtable discussion on school redesign in Salem.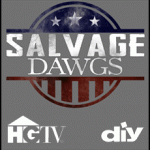 The often-zany crew from Black Dog Salvage in Roanoke is back starting Sunday night with season 8 of "Salvage Dawgs" on the DIY cable network. More from WFIR's Gene Marrano:
9-156 Salvage Dawgs Wrap#1-WEB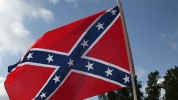 Authorities in Virginia's capital are taking extra precautions for a Confederate heritage rally tomorrow after last month's United the Right rally in Charlottesville turned violent.  Details from WFIR's Ian Price:
09-15 Confederate Rally-RVA WEB-WRAP