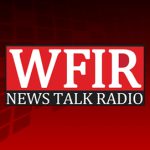 RICHMOND, Va. (AP) – Mourners will gather to remember one of the two Virginia state troopers who died in a helicopter crash while monitoring a white nationalist protest in Charlottesville. A funeral for Trooper-Pilot Berke Bates is scheduled for 11 a.m. Friday at St. Paul's Baptist Church in Richmond. A private burial will follow. Authorities say Bates was a passenger in a helicopter providing video to police of activities in downtown Charlottesville last Saturday before it broke off to lend support to a motorcade for Virginia Gov. Terry McAuliffe. A funeral for the helicopter's pilot, Lt. Jay Cullen, is set for Saturday.
RICHMOND, Va. (AP) – Virginia's governor says he doesn't want his state included in a new review of an oil and gas leasing program on the outer continental shelf. Democrat Terry McAuliffe on Thursday released a letter he sent last week to the U.S. Bureau of Ocean Energy Management. The agency is conducting a review of the National Outer Continental Shelf Oil and Gas Leasing Program. The shelf includes areas off the coast of Virginia. McAuliffe says the issue of revenue-sharing has not been resolved. The governor also says that President Donald Trump's administration is "actively working" to reduce funding from agencies that would protect Virginia's coast. In May, the Trump administration announced that it is moving forward with efforts toward allowing offshore drilling in the mid- and south-Atlantic regions.
BARCELONA, Spain (AP) — A white van jumped up onto a sidewalk and sped down a pedestrian zone Thursday in Barcelona's historic Las Ramblas district, swerving from side to side as it plowed into tourists and residents. Authorities said 12 people were killed and 80 were wounded, 15 of them seriously, in what they called a terror attack. The president of Spain's Catalonia region, Carles Puigdemont, provided the updated casualty figures, correcting an earlier government tweet that said 13 people were killed.
The afternoon attack in the northeastern Spanish city was the country's deadliest since 2004, when al-Qaida-inspired bombers killed 192 people in coordinated attacks on Madrid's commuter trains. It left victims sprawled out in the street, spattered with blood or crippled by broken limbs. Others fled in panic, screaming or carrying young children in their arms. As witnesses and emergency workers tried to help the wounded, police brandishing hand guns launched a search of side streets looking for suspects.

The arrival of a new tasting room and small-batch brewery next month seemed like a good reason for Monday night's "Beer 30" event as WFIR's Gene Marrano reports

The first annual CreekFest this weekend in Vinton coincides with the release of a local band's debut album and a special beer. WFIR's Ian Price has details:
This past weekend's events in Charlottesville have raised passions and many questions, not the least of which is what should the futures be of the many memorials to the soldiers who fought for the Confederacy in the Civil War. Lieutenant Governor Ralph Northam is the Democratic Party's candidate for governor, and WFIR's Evan Jones has a conversation with him in this morning's Longer Listen:
08-17 Northam Longer-WEB
We have invited Republican Ed Gillespie to hold a similar conversation with us on this subject.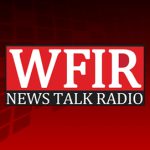 There will be plenty of "Magicians" at Jefferson Center this weekend. Its the latest all-class reunion for alumni of the old Jefferson High School. WFIR's Gene Marrano has the story:
Virginia's major-party candidates for governor agree — and disagree — on the future of civil war statues. The issue has come to the forefront after Charlottesville leaders voted to take down a Robert E. Lee statue and the violence there last weekend. More from WFIR's Evan Jones.
From the FBI: Following the events that occurred in Charlottesville, Virginia, the weekend of August 11-August 13, 2017, many citizens have proactively contacted law enforcement to provide information and video captured of possible criminal activities and persons during that time frame.  Due to the volume of information that is being shared, the FBI established a tip-line and link for those who wish to voluntarily submit any photos, video or information surrounding these events.
Tip-Line Information:      1-800-CALL FBI  (1-800-225-5324)
Select the option for "Recent Events in Charlottesville, Virginia"
Digital media tips webpage – https://www.fbi.gov/charlottesville
The Civil Rights Division, the United States Attorney's Office for the Western District of Virginia and the Richmond Division of the FBI appreciate the assistance that has been provided thus far and encourages continued cooperation with law enforcement.
The Richmond FBI Field Office, the Civil Rights Division, and the US Attorney's Office for the Western District of Virginia have opened a civil rights investigation into the circumstances of the deadly vehicular incident that occurred earlier Saturday morning. The FBI will collect all available facts and evidence, and as this is an ongoing investigation we are not able to comment further at this time."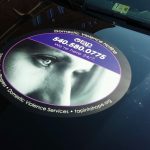 Once again the Roanoke City police department has stepped up to promote services that can assist those in crisis – via decals on a patrol car. More from WFIR's Gene Marrano: