Local businesses and other organizations have the opportunity to work with safety experts and law enforcement agencies next week on how to respond to an active shooter. WFIR's Lillian Boyd has more.

More than 70 vendors will be on hand to help seniors or their families with information and giveaways Tuesday at Vinton's Senior Services Expo as WFIR's Ian Price reports:

Spring is here, and that means for many people with allergies, itching and sneezing season is just about to arrive as well. More from WFIR's Evan Jones.
The need for improved cyber-security to prevent "hacking" is major news these days – and the next wave of cyber professionals could be in training locally as WFIR's Gene Marrano reports:

RICHMOND, Va. (AP) – A federal judge has found Virginia's largest utility violated the Clean Water Act because arsenic is flowing from a coal ash storage site in Chesapeake, polluting ground and surface water.U.S. District Judge John Gibney Jr. issued the ruling yesterday in a lawsuit filed by the Sierra Club against Dominion Virginia Power. But the judge also found that the arsenic discharge poses no health or environmental threat. He didn't order the ash removed to a lined landfill, as the Sierra Club wanted.Instead, Dominion must conduct testing and the two sides must submit a remediation plan.Dominion says it's pleased the court found no threat resulting from the ash at the former Chesapeake Energy Center.An attorney representing the Sierra Club expressed disappointment the court didn't order a "full cleanup."

PORTSMOUTH, Va. (AP) – Virginia's governor has pledged to protect drivers from skyrocketing toll debts owed to a private company.Gov. Terry McAuliffe said in Portsmouth yesterday that a proposed budget amendment would cap debt at $2,200 for first-time offenders. Some drivers currently owe as much as $18,000 for crossing the Elizabeth River.The plan would essentially close a loophole. Currently, the Macquarie-Skanska partnership can charge unlimited fees to violators while the DMV withholds their registration. The proposal would require the firm to offer a settlement capped at $2,200 before the DMV can take action.McAuliffe said the skyrocketing debts stem from bad deal struck in 2012 under the previous administration. It was between the state and private firms Skanska and the Macquarie Group, which built and financed crossings of the Elizabeth River.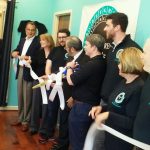 You may have seen it on "The Big Bang Theory or the new "McGyver" TV series – downtown Roanoke now has its first "Escape Room," where small groups can solve a series of puzzles and decipher clues to find their way out of a room.  Its the first escape room in the Roanoke area; Shaw says they have a special appeal to Millenials. There are more than 15,000 thousand across the country says Shaw.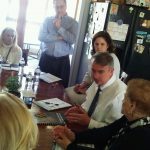 On a campaign swing through Southwestern Virginia today Republican candidate for Governor Ed Gillespie stopped by the home of Roanoke County supervisor Joe McNamara, to talk with a small group of supporters about his tax cut plan and regulatory reform. Gillespie called it a "kitchen table conversation"

A consignment event this weekend – which offers parents some deals on kids clothing – will also benefit the Roanoke Rescue Mission. WFIR's Ian Price has details:
More information on the event can be found here
US Senator Tim Kaine spoke with WFIR early this morning about today's scheduled vote in the House on a health care bill. Kaine also weighed in on President Trump's assertion that he was wiretapped, and a revelation yesterday that members of the Trump transition team were recorded  legally on surveillance calls when they spoke to foreign officials. (Hear Senator Kaine's complete conversation with WFIR's Gene Marrano below)