Web Staff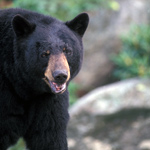 The Virginia Department of Game and Inland Fisheries estimates there are now about 17,000 black bears in Virginia–and they've released a proposed plan for managing that bear population over the next ten years. Black Bear Project Leader Jaime Sajecki says it's all about balancing competiting interests of wildlife watchers, hunters, farmers and others. Sajecki says they've never had a documented case of an unprovoked black bear attack on a human in Virginia–and they'd like to keep it that way.

George Allen has won the Republican nomination for U.S. Senate, getting about two thirds of the vote in yesterday's primary. Jamie Radtke ran a distant second, getting 23% of the vote. This sets up a battle of the former governors: George Allen versus Tim Kaine in a November race that will get lots of national attention.
Republican primary for U.S. Senate
Congressman Bob Goodlatte of Roanoke easily won nomination for a 12th term. He got two-thirds of the vote, with one third going to political newcomer Karen Kwiatkowski. Goodlatte faces Democratic newcomer Andy Schmookler in the fall.

The League of Older Americans is taking orders for its "Let's Do Lunch" event on Friday, June 15. LOA Nutritions Programs Director Michele Daley says The $15 boxed lunches are a major fund-raiser to help home-bound seniors. Continue reading →

The FBI has released a new computerized picture of the suspect in a Virginia Tech student's October 2009 disappearance and murder. Morgan Harrington was last seen leaving a Metallica concert at John Paul Jones Arena in Charlottesville. A man found the 20 year old's remains on his Albemarle County farm in January 2010. Authorities linked DNA from Harrington's murder to a 2005 sexual assault in Northern Virginia. That victim helped police create a composite sketch of the suspect. The FBI used it to create two computerized images of the black male, which the agency released on its website in April. One includes facial hair and the other does not. Authorities warn that the suspect's appearance may have changed since 2005. Continue reading →
A high school student from Lynchburg has won the RAYSAC car, donated by First Team Auto Mall.  Sean Warner is a rising senior at Heritage High School and the Central Virginia Governor's School.  He was one of about 100 students who became finalists in Sunday's After Prom Grand Finale sponsored by the Roanoke Area Youth Substance Abuse Coalition.   
Participating high schools each selected four finalists from among students who stayed all the way through their  after-prom parties.  The finalists were given keys, and it was Warner's key that unlocked a box that held the car keys.   

As summer nears, flip flops and sandals become increasing popular footwear.  The DMV says that's perfectly fine with them — unless you are behind the wheel.   Starr Anderson has the story.
[audio:http://wfirnews.com/wp-content/uploads/2012/05/DMV-Shoes-Wrap-1-WEB.mp3|titles=DMV Shoes Wrap 1-WEB]